For those in Australia just starting their day, here are the latest developments on Russia's invasion of Ukraine:
Ukraine evacuated more than 40,000 people on Wednesday (Ukraine time), but is struggling to get civilians away from conflict zones around the cities of Kyiv, Kharkiv and Mariupol. The negotiator in the Russia talks, David Arakhamia, says Ukraine attempted to evacuate 100,000 people but was unable to do so. Ukraine has accused Russia of shelling civilian areas and preventing the evacuations. Russia has in turn blamed Ukraine.
Europe is facing pressure to join the US and British ban on Russian oil. But while the US and British bans increase the pressure on Europe to follow suit, the continent's dependence on Russia for energy makes an immediate embargo much more difficult. Some officials say an EU ban is the only way to stop billions in oil and gas revenue pouring into Russian President Vladimir Putin's coffers, but Europe gets around 40 per cent of its natural gas and 25 per cent of its oil from Russia. An EU boycott would mean higher prices at the pump and on utility bills while the economy is still recovering from the coronavirus pandemic.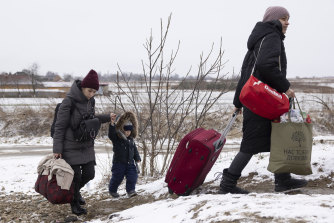 Russia has cracked down on independent news, blocking access to multiple foreign news outlets. Scattered protests against the war continue in the country, but AP reports people in Russia are losing sources of information about what is happening. Meanwhile, Heineken, Universal Music and Discovery join other large companies such as McDonald's, Starbucks, Coca-Cola, PepsiCo and General Electric in suspending business in Russia.
Concerns are being raised over the safety of the decommissioned Chernobyl nuclear plant. Russian troops seized the plant early in the invasion and it has lost power, reverting to backup generators. Ukraine's nuclear regulator says remote data transmission from monitoring systems at Chernobyl has been lost. The state communications agency also says the power outage may put systems for cooling nuclear material at risk. Ukraine's energy minister says about 500 Russian soldiers and 50 pieces of heavy equipment are inside the station.
Russian armed forces claim to have destroyed 974 Ukrainian tanks and other armoured vehicles since the start of what Russia has dubbed a "special military operation" on February 24. The Russian defence ministry says it has also downed 97 drones.
Russia's foreign minister Sergei Lavrov has arrived in Turkey's southern city of Antalya, according to a Reuters witness, ahead of planned talks on Thursday (Turkish time) with his Ukrainian counterpart Dmytro Kuleba. The meeting will be the first between the nations' top diplomats since Russia invaded Ukraine two weeks ago.
And as mentioned earlier this morning, Ukrainian President Volodymyr Zelensky has labelled a Russian airstrike on a Mariupol children's hospital and maternity ward an "atrocity" with children reportedly among those trapped in the rubble. Zelensky is calling for the skies above Ukraine to be closed immediately to stop the killing. Pavlo Kirilenko, a regional government official, says 17 people have been wounded, though rescuers are still searching for other casualties.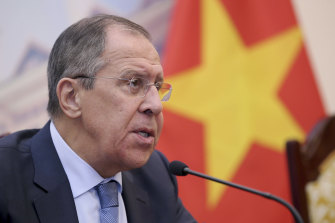 with AP, Reuters