Philip Morris International became the latest major cigarette maker to scale down operations in Russia, joining a broader exodus of major US and European consumer brands.
The maker of Marlboro cigarettes said it will suspend planned investments in the country, including all new product launches. It will also "scale down" production there amid supply chain disruptions, though a spokesman declined to provide details on how or to what extent the company intends to do that.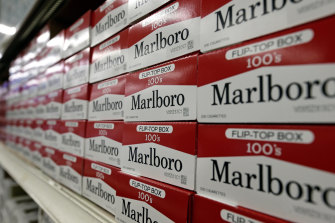 Imperial Brands became the first major cigarette maker to halt operations in Russia. The company, which sells Gauloises cigarettes, said it will stop production at its Volgograd factory and halt sales and marketing in the country. Its 1,000 employees in Russia will continue to be paid. British American Tobacco said it suspended all capital investment in Russia and will focus on its locally made tobacco products while cutting back on marketing.
International sanctions have led to severe business disruption, making it challenging to operate in Russia, Imperial said. Still, its larger rivals like Philip Morris and Japan Tobacco International depend much more on that market for earnings.
Social media outcry
Imperial gets less than 1 per cent of total adjusted operating profit from Russia and Ukraine, while Russia is the second-largest destination for shipments from Philip Morris. The country has also been one of the biggest markets for Philip Morris's IQOS heated-tobacco product, an alternative to combustible cigarettes.
Loading
Japan Tobacco generates some 10 per cent of profit from Russia and Ukraine, according to Jefferies analyst Owen Bennett. The Tokyo-based company declined to comment.
Philip Morris may soon withdraw its forecast of 5 per cent organic sales growth and 9 per cent adjusted annual earnings per share growth through 2023, according to Bloomberg Intelligence analyst Kenneth Shea.
While Big Tobacco companies announced temporary closures in Ukraine, most had kept their Russian sites open. That has led to a growing chorus on social media calling for them to suspend their businesses there.
Scandinavian Tobacco, a maker of pipe tobacco and cigars, halted operations in Russia on March 1. The Danish company said it aimed "to exert pressure on the Russian regime and make it clear that we will not accept their actions."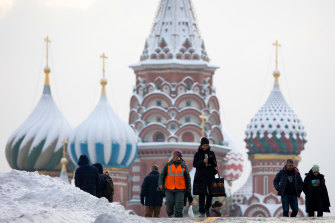 Russia is the world's fourth-largest cigarette market by volume, and nearly a third of its adult population smokes. The country's $US18 billion ($24.6 billion) tobacco market is largely dominated by foreign players, and halting cigarette sales would erase billions of roubles in tobacco excise revenues, which amounted to 560 billion roubles ($6.4 billion) in 2019, according to Statista.
A growing number of US and European labels, ranging from McDonald's to Rolex and Amazon.com, have announced decisions to stop at least some of their work in Russia as the backlash grows over the war.
Until now, Big Tobacco had been a holdout.
One risk of halting business in either Russia or Ukraine is that it could fuel an increase in the illicit cigarette trade. Counterfeit cigarettes carry additional health risks in the absence of quality control and can help finance organised crime and terrorism.
Loading
Tobacco firms employ thousands of people in Russia at regional offices and manufacturing sites. Philip Morris counts some 4,000 employees, while Japan Tobacco, which sells Winston and Russian brands like Donskoy Tabak and Peter I, has about 4,500 workers there. BAT has 2,500 employees in Russia.
Bloomberg