Readers weigh in on the sanctions imposed against Russia and the need for freedom to be balanced with responsibility.
Author of the article:
Phil Tank  •  Saskatoon StarPhoenix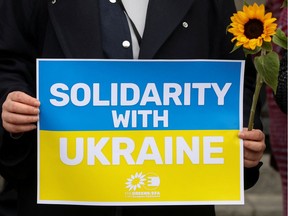 Long-term Ukraine view urged
My wife has been texting her Russian friend, Nastya. They are old childhood friends.
Nastya lamented that she would have to buy a new phone. Apple has reduced services to its Russian customers. So, she "would have to buy a Huawei phone."
In the short term, the sanctions, reduced services and diplomatic isolation inflicted on Russia is cathartic for us in the West. At least we're doing something.
But, in the long term, economic sanctions and diplomatic isolation will harden Russia. Nastya is not angry with Putin. She is angry that her Apple Maps does not work.
When Nastya buys her Chinese phone, she will be in step with the Russian banks and markets, seeking Chinese resources. Russia and China will become further entwined.
We have rightly supported Ukraine. Perhaps international pressure will help to save a battered, but still sovereign Ukraine.
But we will emerge from the Ukraine war with a hardened Russia, fully tied to China, an emboldened China, bitter from years of trade disputes with the United States and eyeing Taiwan; a militarized European Union, verbose about the existential threat of the Putin regime; a United States trending toward isolationism and a Canada willing to make declarations but lacking the power to change anything.
We are prepared to do whatever we need for Ukraine in the short term, short of war. We are not prepared for what is coming in the long term and it may mean war.
Chad Doell
Hague
Freedom means responsibility 
"Freedom's just another word for nothin' left to lose," famously sung by Janis Joplin but penned by Kris Kristofferson.
Turning that around, "Nothin' ain't worth nothin' but it's free." So if you want something, you need to give up some freedoms to obtain it.
We're social animals. We can't survive without one another. Given that, we ain't free to do as we please. Every action we take has an impact on those around us and society as a whole. Given that those actions affect the rest of us, someone needs to be responsible for them.
There has been a lot of discussion about the mandates issued by the government. Keep in mind that we voted for the government, so those mandates come from us. And that is good.
The mandates are to protect the public. You might want to call those mandates responsibilities because they are to protect us. It's also our responsibility to abide by the mandates to help protect those around us.
So if you want your freedoms, then not on our streets or our cities or our country. Take your "nothin' left to lose" where you won't annoy the rest of us that are being responsible.
Murray Marien
Saskatoon
SHARE YOUR VIEWS
The StarPhoenix welcomes letters, which are limited to 250 words and must include the writer's name, street address and phone number.
Submissions will be verified and edited before publication.
We publish the names and community of all letter writers.
Do not send email attachments.
Writing more than one letter a month is discouraged and "open" letters are not accepted.
Send to: 204 Fifth Ave. N., Saskatoon, Sask., S7K 2P1
Fax: 306-657-6437
Email: letters@thestarphoenix.com
Want to know how we decide what to cover and how editorial decisions are made at the Saskatoon StarPhoenix and Regina Leader-Post? Get the weekly Letter From the Editor newsletter from the Editor in Chief Russell Wangersky and join the discussion on what goes into covering news and delivering commentary, both in print and online. Click here to subscribe.
Saskatoon StarPhoenix Afternoon Headlines
We deliver the local news you need in these turbulent times on weekdays at 3 p.m.
By clicking on the sign up button you consent to receive the above newsletter from Postmedia Network Inc. You may unsubscribe any time by clicking on the unsubscribe link at the bottom of our emails. Postmedia Network Inc. | 365 Bloor Street East, Toronto, Ontario, M4W 3L4 | 416-383-2300