Kyiv rejected the demand to give up the city by 5 a.m. local time (11 p.m. ET), after Moscow promised to allow civilians trapped in the bombardment without water, heat or medicine to escape if its defenders laid down their arms.
Seizing control of the strategic city would represent a significant and rare victory for Russian forces, with their advance seemingly ground to a halt elsewhere and their campaign shifting to intensifying aerial bombardment of Ukraine's cities. The assault has forced more than 10 million people to flee their homes for refuge both within and outside the country's borders, according to the United Nations, and led to growing accusations of war crimes from leaders in Kyiv and across the West.
President Joe Biden will head to Europe this week as the United States and its allies seek to bolster Ukraine and punish the Kremlin for its invasion. The trip will include a visit to Poland, a NATO ally neighboring Ukraine, the White House announced late Sunday.
Israel to maintain relations with Kyiv, Moscow
The Associated Press
4m ago / 9:29 AM UTC
Israel's prime minister says the country is managing its involvement with Ukraine and Russia "in a sensitive, generous and responsible way while balancing various and complex considerations" after Ukraine's president called on Israel to take sides.
Naftali Bennett spoke on the tarmac at Israel's main international airport as an aid delegation was set to depart for Ukraine to set up a field hospital for refugees near the Polish border.
A day earlier Ukrainian President Volodymyr Zelenskyy rebuked Israel in a televised address to Israeli parliament members, saying Israel should provide arms and impose sanctions on Russia.
Israel has good relations with both Ukraine and Russia and has acted as an intermediary between the two sides since Russia invaded Ukraine in late February. 
Russian carmaker Avtovaz partially suspends production over shortages
Ayumi Fujimoto and Reuters
18m ago / 9:15 AM UTC
Russian carmaker Avtovaz has said it will be partially halting production at its plants in Togliatti and Izhevsk this week due to a shortage of electronic parts. 
The carmaker said production would be partially affected from Monday to Friday.
Avtovaz said the LADA Izhevsk plant would continue to produce its Vesta model and vehicles from today and tomorrow. 
Renault, which controls Avtovaz, has periodically suspended production this month over similar shortages. 
Kyiv attack leaves several dead, destroys shopping center, officials say
Chantal Da Silva
23m ago / 9:10 AM UTC
A fresh attack on Kyiv Sunday night left several people dead and a shopping center destroyed, Ukrainian officials have said.
In a Telegram post, Ukraine's Parliament said a powerful explosion had destroyed the shopping center in the capital's Podil district. 
It said that at least eight people were believed to be dead, according to "preliminary data." An official death toll was still being determined, the State Emergency Service of Ukraine said.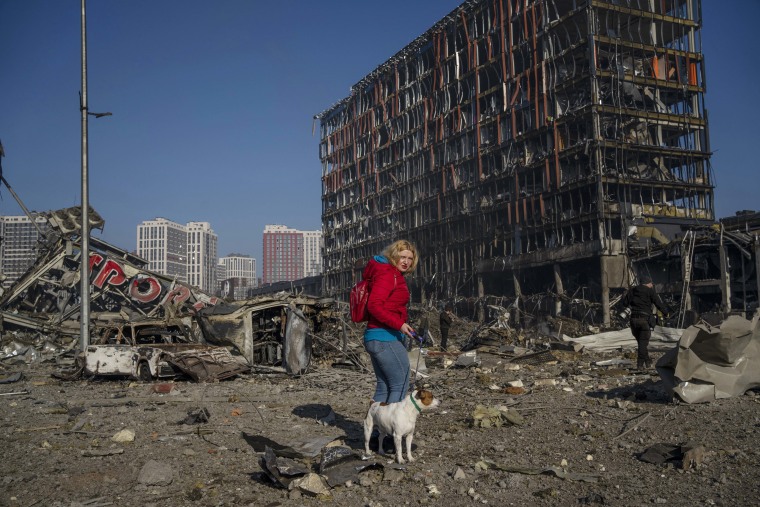 Kyiv Mayor Vitali Klitschko told Reuters that there had been several blasts in the Podil district. He said a number of homes had also been hit. 
Chantal Da Silva
30m ago / 9:03 AM UTC
Volodymyr, 13, recovers in a Kyiv hospital on Saturday after his family's car was caught in crossfire between Russian and Ukrainian forces, killing his father and injuring his mother in late February.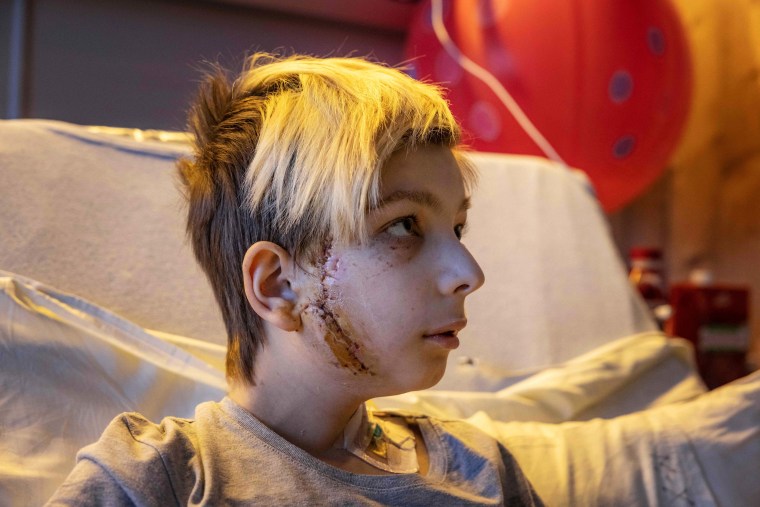 Ukraine rejects Russia's demand to surrender Mariupol
Chantal Da Silva
1h ago / 8:25 AM UTC
Ukraine rejected demands from Russia to surrender Mariupol on Monday as a humanitarian crisis continued to unfold in the besieged port city. 
Moscow had offered to allow civilians trapped in the city without access to water, heating and medicine to escape if Ukrainian forces surrendered. 
Kyiv rejected the demand, however, refusing to give Russia control of the strategic city.
As many as 300,000 people are believed to be trapped in Mariupol, with aid blocked from reaching residents, who have for weeks suffered from worsening shortages amid intensive Russian bombing.
Russian advance towards Kyiv stalls amid heavy fighting north of capital
Chantal Da Silva
1h ago / 8:04 AM UTC
Russian forces advancing towards Kyiv from the northeast have stalled as heavy fighting continues north of the capital, Britain's defense ministry said on Monday. 
Meanwhile, forces advancing from the direction of Hostomel to the northwest of the Ukrainian capital have been "repulsed by fierce Ukrainian resistance," it said in an intelligence update.
As of early Monday morning, the bulk of Russian forces remained more than 15 miles away from the center of Kyiv, the defense ministry said.
Despite the "continued lack of progress," it said Kyiv remains Moscow's primary military objective, with Russian forces expected to "prioritize attempting to encircle the city over the coming weeks." 
Rescuers work at site of Kyiv shopping mall hit by airstrike
Max Butterworth
2h ago / 7:29 AM UTC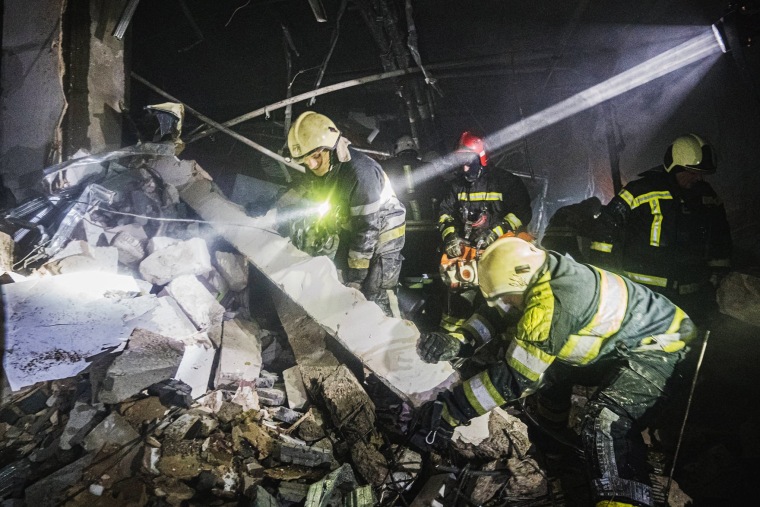 The Associated Press
2h ago / 7:27 AM UTC
Emergency officials have contained an ammonia leak at a chemical plant that contaminated wide area in the eastern Ukrainian city of Sumy, officials said Monday.
Sumy regional governor Dmytro Zhyvytskyy didn't say what caused the leak, which spread about 1.5 miles in all directions from the Sumykhimprom plant.
The plant is on the eastern outskirts of the city, which has a population of about 263,000 and has been regularly shelled by Russian troops in recent weeks.
Biden's European trip to include stop in Poland

Dennis Romero
2h ago / 7:26 AM UTC
President Joe Biden's trip overseas this week will include a stop in Poland, which borders Ukraine, the White House said late Sunday.
It was previously announced that the president would travel to Brussels to meet with NATO allies, European Union officials and leaders of the Group of Seven industrial nations to discuss support for Ukraine's defense against Russia's invasion.
The newly announced leg of the trip will have Biden going to Warsaw on Friday for a meeting with President Andrzej Duda, White House press secretary Jen Psaki said in a statement. She tweeted earlier that his travels would not include a stop in Ukraine.
The focus of the trip will be "international efforts to support Ukraine and impose severe and unprecedented costs on Russia for its invasion," according to Psaki's statement.