3 mins ago
That's it from me – my colleague Jane is here to take you through the next developments.
50 mins ago
The United Arab Emirates has shot down suggestions that it should increase oil production unilaterally and leave an energy alliance with Russia.
Its energy minister Suhail al-Mazrouei said that Russia, with 10 million barrels of oil a day, is an important member of the global Opec+ energy alliance and "that volume is needed today".
"Unless someone is willing to come and bring 10 million barrels, we don't see that someone can substitute Russia," he said.
Europe, the US, Japan and others have been calling on oil producers in the Arab Gulf to do more to help bring down fossil fuel prices in the wake of Russia's invasion of Ukraine, including an in-person visit by the UK's Boris Johnson to the UAE and Saudi Arabia earlier this month.
10:34AM
Listen back: Oleg Ustenko, an economic adviser to Zelenskyy, calls on Europe to impose an embargo on Russian oil
10:13AM
Meanwhile, also in the UK, Labour leader Keir Starmer said the British government has got the response to the Ukraine refugee crisis "completely wrong" and has acted "too slowly, they are too mean".
Speaking to LBC radio, Starmer said that "they've still got this DIY package really, which is all over the place, where we hear the refugees who were supposed to be on their way here still haven't got visas and clearance".
He said sanctions against Russia should have gone "further and faster".
10:09AM
The UK and Australia are jointly sending humanitarian aid for Ukrainians displaced by the war via chartered flights.
The first of two flights will leave for Poland tomorrow carrying hygiene kits, solar lights, kitchen sets and blankets along with other basic necessities for the UN refugee agency to distribute on the ground.
British Foreign Secretary Liz Truss said the two countries are working together to support people who have had their lives destroyed by Russia's "brutal, unprovoked invasion".
"We call on Russia to enable safe humanitarian access and safe passage for people to flee the violence," Truss said.
9:54AM
The UN High Commissioner for Refugees estimates that 3,821,049 Ukrainians have now fled the country, an increase of 48,450 from the previous day's figure.
Around another 6.5 million people are displaced from their homes inside Ukraine.
Evacuations along humanitarian corridors will not take place today due to intelligence reports that Russia plans to stage provocations along the routes. 
Fires in Chernobyl
9:40AM
"Significant" new fires have broken out in the exclusion zone around the defunct Chernobyl nuclear power plant, which is occupied by Russian forces, according to Ukraine.
On Telegram, Deputy Prime Minister Iryna Vereshchuk said it is "impossible to control and extinguish fires in full due to the capture of the exclusion zone by the Russian occupation forces".
The area around the power plant was a site of fierce battle between Russia and Ukraine in the first days of the invasion, when Russia seized control of the plant.
9:26AM
The latest intelligence update from the British Ministry of Defence outlines that ongoing logistical shortages "have been compounded by a continued lack of momentum and morale amongst the Russian military and aggressive fighting by the Ukrainians".
9:09AM
Commissioner for Human Rights in Ukraine Lyudmyla Denisova has stated that 143 children have been killed and 216 injured since the beginning of Russia's invasion.
The total tally may be higher as heavy fighting prevents access to some areas, the Kyiv Independent reports. 
⚡️ Russia kills 143 children in Ukraine.

Since the beginning of Russia's full-scale invasion of Ukraine, 143 children have been killed and 216 injured, according to Ukraine's Ombudsman.

The actual numbers may be higher as Ukraine cannot reach some cities due to heavy fighting.

— The Kyiv Independent (@KyivIndependent) March 28, 2022

Source: The Kyiv Independent/Twitter
Peace talks
8:59AM
Negotiators from Ukraine and Russia are resuming face-to-face talks soon to try to chart a path to peace.
The talks, which are being held in Turkey, come as the two sides face a near-stalemate as Russia faces greater losses than it anticipated.
8:51AM
Ukrainian President Volodymyr Zelensky has said Ukraine could hold a referendum on neutrality and agreeing to stay out of Nato after Russian troops pull out of the country.
Speaking to independent Russian journalists, Zelenskyy said that a vote could take place within a few months after troops leave.
Russia quickly banned the interview from being published through communications regulator Roskomnadzor, which said action could be taken against outlets that took part, including "those that are foreign media outlets acting as foreign agents".
In response, Zelenskyy called Moscow afraid of a short conversation with journalists.
"It would be funny if it weren't so tragic," he said, according to the Ukrainian news agency RBK Ukraina.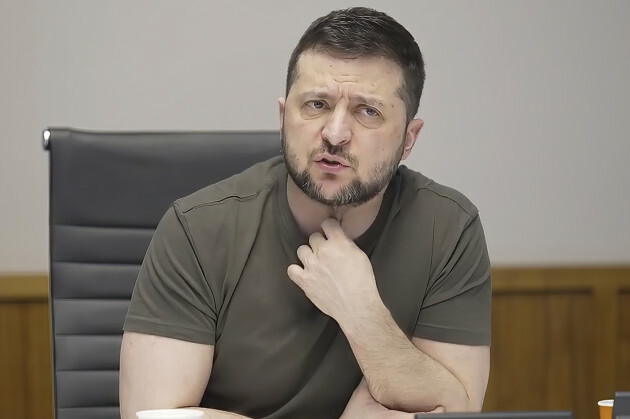 Source: AP/PA Images
8:43AM
Good morning all. Lauren Boland here. It's Monday morning and we'll be bringing you all the latest developments on the war in Ukraine as they happen.
Here's a quick round-up at where things stand right now:
Russian and Ukrainian negotiators will resume face-to-face peace talks today.
Ukrainian President Volodymyr Zelenskyy has said the country would consider declaring neutrality.
France, Greece and Turkey are hoping to launch a "humanitarian operation" to evacuate civilians from the besieged city of Mariupol within days.
The UN estimates that at least 1,100 civilians have died and more than 10 million have been displaced.
The head of Ukraine's Lugansk separatist region has indicated it may hold a referendum on becoming part of Russia.