29 mins ago
After closing yesterday in fear of attacks by Russia, humanitarian corridors have reopened in Ukraine today.
Ukrainian Deputy Prime Minister Iryna Vereshchuk confirmed that three humanitarian corridors have been agreed on today, the first of which is from Mariupol to Zaporizhzhia using private cars.
A second corridor stretches from the Russian-occupied town of Melitopol to Zaporizhzhia, while a third will start in Energodar, where the Zaporizhzhia nuclear power plant captured by Russian troops is located, and also head to Zaporizhzhia. 
France, Greece and Turkey intend to launch a mass evacuation of civilians from Mariupol in the coming days, according to French President Emmanuel Macron, who is seeking agreement from Putin.

The distance between Mariupol and Zaporizhzhia

Source: Google Maps
More from Mykolaiv
40 mins ago
The governer of Mykolaiv said that half the regional government building hit by a Russian strike was destroyed.
"We're clearing the rubble. Half the building was destroyed. My office was hit," governer Vitaly Kim said in a video statement.
The governer said that eight civilians are still under the rubble.
"We hope to be able to get them out," he said.
"We are also looking for three soldiers".
57 mins ago
At least 144 children have died in the war in Ukraine and 220 have been wounded, according to the Office of Ukraine's Prosecutor General.
That excludes children who have died in Mariupol, whose mayor puts the local figure at 210 child deaths, the Kyiv Independent reports
⚡️Prosecutor General's Office: Russia's war kills at least 144 children, wounds more than 220.

The data doesn't include child victims in the besieged city of Mariupol, where the mayor said about 210 children have been killed.

— The Kyiv Independent (@KyivIndependent) March 29, 2022

Source: The Kyiv Independent/Twitter
9:33AM
A Russian strike has hit a regional government building in the southern Ukrainian city of Mykolaiv, according to the regional governer.
"The regional administration building was hit," governor Vitaly Kim wrote on Facebook.
He said that most people inside the building "escaped miraculously".
However, several civilians and soldiers are still unaccounted for.
Mykolaiv is a key port city that has been under heavy assault for weeks. 
9:15AM
Ukraine's foreign minister Dmytro Kuleba has warned people involved in negotiating with Russia against eating or drinking following suspected poisonings.
Roman Abramovich and at least two Ukrainian negotiators are believed to have suffered symptoms of poisoning following a meeting in Kyiv earlier this month.
A report in the Wall Street Journal (WSJ), confirmed by investigative journalism group Bellingcat, said Russian oligarch Abramovich and the two Ukrainian officials had suffered red eyes, constant and painful tearing, and peeling skin on their faces and hands. 
In a subsequent interview with the Ykpaiha 24 news channel, translated by Sky News, Kuleba said: "I advise anyone going through negotiations with the Russian Federation not to eat or drink anything, and preferably avoid touching any surface."
Stalemate
9:10AM
As the talks commence, Ukrainian and Russian forces appear to be in a back-and-forth stalemate.
Ukrainian forces recaptured the Kyiv suburb of Irpin yesterday and have retained control of Mariupol despite fierce Russian attacks on the besiged port city.
Experts say the loss of Irpin is a setback for Russian forces who are still trying to regroup after a failed attempt to encircle Kyiv.
8:58AM
Turkish President Recep Tayyip Erdogan welcomed Ukrainian and Russian negotiators this morning as the two sides meet for face-to-face talks aimed at reaching a ceasefire.
The president urged them to "put an end to this tragedy".
"We believe that there will be no losers in a just peace. Prolonging the conflict is not in anyone's interest," he said.
"As members of the delegations you have taken on a historic responsibility. The whole world is awaiting the good news that will come from you."
Ahead of the negotiations, Ukrainian President Volodymyr Zelenskyy said the country would be prepared to hold a referendum on neutrality and removing an impetus to seek Nato membership from its constitution.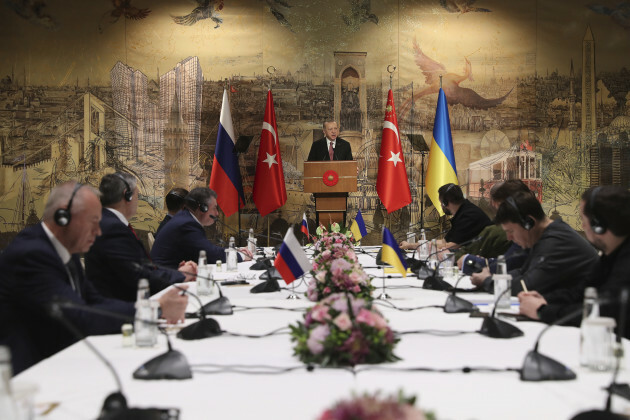 Turkish President Recep Tayyip Erdogan, centre, gives a speech to welcome the Russian, left, and Ukrainian, right, delegations ahead of their talks in Istanbul today

Source: AP/PA Images
8:54AM
Good morning, Lauren Boland here. We'll be bringing you all the latest developments in the war in Ukraine as they happen today as Ukraine and Russian negotiators meet again in Turkey
Here's a look at what's happening so far this morning: 
Talks aimed at reaching a ceasefire are resuming between Ukraine and Russia in Turkey's capital today
Ukraine's foreign minister has warned those negotiating with Russia not to eat or drink following the reported poisoning of Roman Abramovich and Ukrainian negotiators
The US is poised to target additional sectors involved in Russia's war effort in a bid to disrupt supply chains
The funeral of Irish cameraman Pierre Zakrzewski who was killed while working in Ukraine is taking place in Dublin at 10am