4 mins ago
The German government has said that satellite images from last month provided strong counterevidence against Russian denials of involvement in civilian deaths in Bucha.
Government spokesman Steffen Hebestreit told reporters that the "evaluation of satellite images" led Berlin to conclude that "Russian declarations" that images of civilian deaths "were posed scenes or that they were not responsible for the murders are in our view not tenable".
5 mins ago
'No support' for those helping refugees
Back at Leinster House, Independent TD Peter Fitzpatrick has said that people who have opened their homes to Ukrainian refugees feel "isolated with no support".
During Leader's Questions, he told Taoiseach Micheál Martin that members of his constituency are finding it difficult to pay their bills without any support from Government.
"They said they have absolutely no regrets that they have opened their homes to Ukrainian refugees, but they find it difficult and financially challenging.
"They have increased energy and food bills, and on top of this, there's massive hikes in energy prices, yet when they look for support and assistance from the Department, they feel that there is none," he said.
In response, Taoiseach Micheál Martin paid tribute to those who have volunteered to help Ukrainian refugees to get settled in this country.
"The initial focus of our responses has been, first of all, on the accommodation," he said.
He said that to date, 19,283 people have arrived from Ukraine, and of these, 11,800 have sought accommodation.
"This is something we've never thought we'd experience, and therefore, we've been focusing in the initial phase of this, on getting the accommodation. We've much more to do there, we're under pressure in terms of accommodation but we have to get through all the pledges, we have significant work on the way," he said.
Martin said the Government is working on acquiring more accommodation for refugees, including from private and state-owned properties, religious properties and local authority facilities.
"All of that is being worked on as we speak and that has to be where the energies go right now. Likewise, there is income support immediately in terms of social protection, once refugees come into the country," he said.
He also said the Government is establishing community response forums in each local authority to coordinate responses to the Ukraine crisis.
"That forum will bring together all of the public, community and larger organisations acting locally, as well as the mayor of each local authority.
"These local forums are best placed to put arrangements in place to help the new arrivals from Ukraine access services. We believe that these forums are an important part of what your articulated in terms of the need to provide support on the ground," he said.
21 mins ago
Borodyanka, Kyiv region.
Only 42 days ago, 13,000 people lived in this village.
russian occupiers brought death and destruction here. They wanted to do the same with the whole of Ukraine.
But our army fought back. Borodyanka is under the Ukrainian flag again. pic.twitter.com/o3wXs27RYQ

— Defence of Ukraine (@DefenceU) April 6, 2022
Ukraine's Defense Ministry has shared video showing the destruction left behind after Russian troops withdrew Borodyanka.
Before the war the town, which is around 40 km northwest of Kyiv, had a population of around 13,000.
"They wanted to do the same with the whole of Ukraine. But our army fought back," the ministry wrote.
33 mins ago
UN to vote on suspending Russia from Human Rights Council
The UN General Assembly will tomorrow vote on suspending Russia from the UN Human Rights Council as punishment for invading Ukraine, the assembly presidency said.
The vote is "confirmed for 10:00 am," Paulina Kubiak, a spokeswoman for the presidency, said this afternoon.
52 mins ago
The EU has announced that it's building a €540-million emergency stockpile of medicine and equipment to deal with chemical and nuclear emergencies.
The European Commission said the supplies consist of "equipment and medicines, vaccines and other therapeutics" to treat patients exposed to chemical, biological, radiological and nuclear emergencies.
As a first step, the EU said it was procuring "potassium iodide tablets which can be used to protect people from the harmful effects of radiation".
It said that three million iodide tablets had already been delivered to Ukraine with the help of EU members France and Spain.
12:47PM
Five-year-old Anastasia (mentioned below) also met Taoiseach Micheál Martin during her visit to Leinster House today.
Virgin Media's Gavan Reilly has shared a photo of the encounter.
Two months ago, 5-year-old Anastasiia Semonova was going to school in Donetsk.

Today she met the Taoiseach Micheál Martin and Ukraine's ambassador Larysa Gerasko after attending a joint Oireachtas sitting addressed by President Volodymyr Zelenskyy.

(📸Maxwells/Oireachtas) pic.twitter.com/eqjPwOzyuG

— Gavan Reilly (@gavreilly) April 6, 2022
12:23PM
The International Committee of the Red Cross has said over 500 people have reached Zaporizhzhia in a convoy from the besieged city of Mariupol:
UPDATE: Our team led a convoy of buses and private cars with over 500 people to Zaporizhzhia.

Those who were part of the convoy had managed to flee #Mariupol.

We hope this helps people find the safe haven they so desperately need right now. pic.twitter.com/5NRzIZkhuK

— ICRC Ukraine (@ICRC_ua) April 6, 2022
The organisation said its team tried for five days to reach Mariupol, but security conditions made it "impossible".
"Thousands are still trapped in the city," it said. "They urgently need a safe passage out and aid to come in."
12:06PM
Russia's foreign ministry said today it has made foreign debt payments on dollar-denominated bonds in rubles.
The finance ministry said in a statement that it had been forced to repay $649.2 million to foreign debt-holders in rubles after a correspondent bank refused to execute payment instructions.
"In order to fulfill the state debt obligations of the Russian Federation," the finance ministry "was forced to attract a Russian financial institution to make the necessary payments", it said in a statement.
The finance ministry did not specify if the ruble payment had been accepted.
Many analysts say Russia is heading into default but the Kremlin has rejected these claims.
"Russia has all the necessary resources to service its debts," Kremlin spokesman Dmitry Peskov told reporters today.
11:41AM
The Houses of the Oireachtas have shared some images of President Zelenskyy's address in the Dáil:
— Houses of the Oireachtas – Tithe an Oireachtais (@OireachtasNews) April 6, 2022
11:19AM
Cathaoirleach of Seanad Éireann, Senator Mark Daly is last to speak.
He begins by welcoming five-year-old Anastasia, who has come to Ireland with her mother.
Her father is still in Ukraine, "fighting to keep ti free and independent for his daughter's future", Daly says.
"We cannot imagine what they've gone through," he continues. "We cannot imagine what it must feel like for millions of their fellow Ukrainians having to seek safety in European countries. We cannot imagine what it must feel like to have your future so suddenly changed."
Daly says as an international community "we must never be neutral in the face of tyranny".
"We can and we must do more," he says. "We must be relentless in our support for Ukraine, not just today, not just tomorrow, but until the war is over."
11:08AM
TDs in the Dáil are continuing to discuss the war in Ukraine. Micheal Healy-Rae says the government in Ireland has been "to the forefront in standing up and saying we will put our shoulders to the wheel".
He, like many others in the chamber today, commended Ambassador Larysa for the work she has done over the last number of weeks to highlight what is happening in her country and seek support for Ukrainians fleeing the war.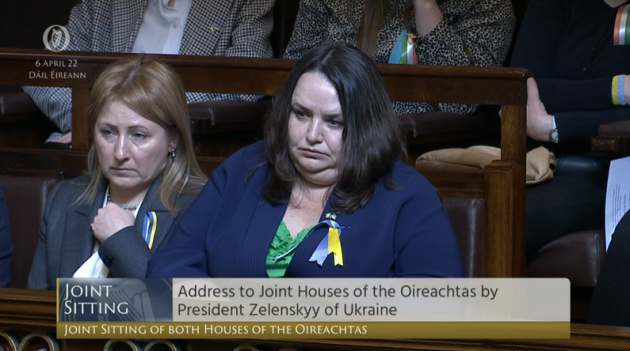 10:54AM
Next up to speak is Labour party leader Ivana Bacik, who begins by calling for the expulsion of the Russian ambassador from Ireland due to his "brazen denials of the truth of what is happening in Ukraine". 
She says the Irish government should show strong support for Ukraine's expedited accession to the EU and a full embargo on Russian oil and gas. 
"Putin has shown that he wants to wipe Ukraine off the map and Ambassador he wants to abolish your culture and your country's history," Bacik says, addressing Ukrainian Ambassador to Ireland Gerasko Larysa, who is in the Dáil chamber.
"But Putin must fail and Putin will fail."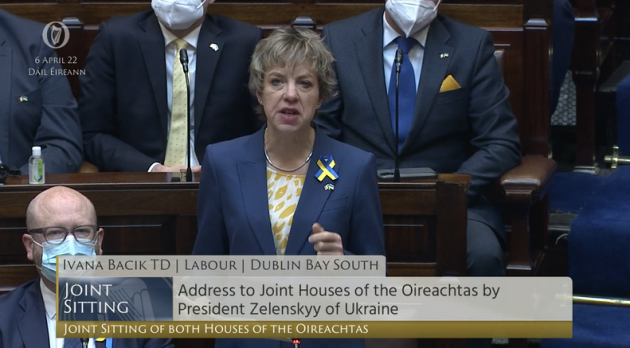 10:48AM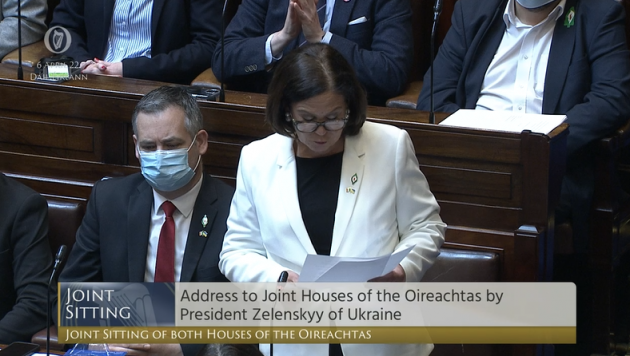 "One day the invader will retreat, the coloniser will leave, Russia's armies will go home and the strength of the Ukrainian people and the support of her allies will see to that," McDonald says.
She says the deeply scarred country will start to heal and families will come together again.
"Ukraine will emerge once more into a new dawn of peace and freedom. Our island stands with you now in your dark days and we will stand with you in the light of a victory of humanity over injustice of light over dark."
10:46AM
That's it from me, Lauren – here's my colleague Michelle Hennessy to take you through the next updates.
10:45AM
Russia should feel the "full weight" of sanctions and should not underestimate the solidarity of Ireland and other countries with Ukraine, she says.
"Ukraine lives. Ukraine breathes. And Ukraine will go on."
10:43AM
"It is long past time for Ambassador Filatov to be expelled from Ireland," McDonald says, drawing applause in the Dáil. She repeats the call strongly in Irish.
10:42AM
Next up is Sinn Féin leader Mary Lou McDonald.
Instead of trying to find peace, Russia has escalated its attacks by targeting civilians, she says.
She says that the Russian embassy in Ireland has acted as a force for propaganda about the war.
"The Russian ambassador wants us to ignore the evidence before our eyes."
10:39AM
Green Party leader Eamon Ryan says Ireland will need to "stay the course" in resisting Russia and fighting for Ukraine.
"Staying the course will be difficult but I expect this house and our people are up for the challenge, one of the greatest ones of our time," he says.
10:35AM
Our political correspondent Christina Finn is in the Dáil's gallery this morning for Zelenskyy's address and politicians' responses
Many of the TDs and senators are wearing blue and yellow today in the chamber today.

— Christina Finn (@christinafinn8) April 6, 2022

Source: Christina Finn/Twitter
10:33AM
Watch it back: Zelenskyy told the Dáil that there is a 'new page' of relations between Ukraine and Ireland and that it is "only a matter of time" before they are together in the EU

Source: TheJournal.ie/YouTube
10:32AM
Varadkar says Ireland "no quarrel with the people of Russia" and admires protestors who are demonstrating in the streets.
"But for those responsible for this conflict, we have a simple message: Your actions will never be forgotten. They will never be forgiven."
He says Russia has united Europe and the west and strengthened Ukraine's national identity.
And again, he ends his speech: "Slava Ukraini."
10:29AM
Next to stand in the Dáil is Tánaiste Leo Varadkar.
Zelenskyy is no longer on the virtual call, but Varadkar thanks him for speaking to the joint sitting this morning.
Varadkar says Ireland knows "what it's like to be invaded" and to have its identity questioned.
"We're heartbroken to see what the people of Ukraine have had to endure for 42 days."
10:27AM
The Taoiseach thanks people in Ireland who have opened their "homes" and "hearts" to refugees from Ukraine.
"We stand with Ukraine. Slava Ukraini."
10:24AM
Watch it back: Ukrainian President Volodymr Zelenskyy tells TDs and senators that Russia is using hunger as a weapon against the people of Ukraine and speaks about the horror of the siege of Mariupol.

Source: TheJournal.ie/YouTube
10:23AM
The Taoiseach says Ireland will support any action that can lead to an immediate ceasefire.
Taoiseach welcomes Ukraine's EU application
10:22AM
"This war touches us all and that is why Ireland is supporting further European sanctions," Martin said.
"We need sanctions that will bring it home to Putin and his regime that he cannot and will not succeed."
The Taoiseach says he welcomes Ukraine's application for membership of the EU.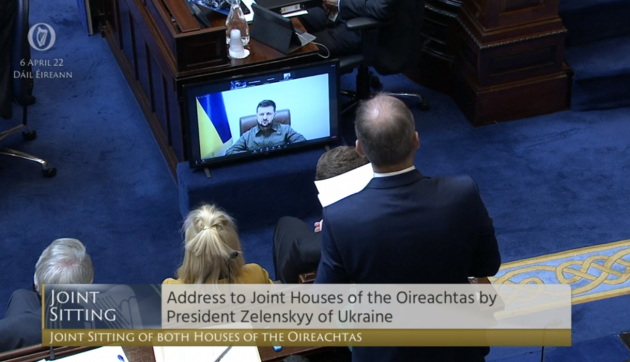 Source: Oireachtas TV
10:20AM
"Russia will have to live with the shame and ignominy of what they have done in Ukraine for decades," the Taoiseach says.
"I am certain that in the end, Ukraine will prevail."
He says Ireland is militarily netural but not politically or morally netural "in the face of war crimes".
10:18AM
Taoiseach Micheál Martin is speaking now in response to Zelenskyy's speech.
"Ireland is resolute in our solidarity and support for Ukraine," he opens.
He thanks Zelenskyy for his "heartfelt" and "historic" address.
10:18AM
The Ceann Comhairle and others are wearing blue-and-yellow striped ties in tribute to the colours of Ukraine's flag, with a lot of blue and yellow included in outfits around the chamber this morning.
10:15AM
Pictured: The standing ovation in the chamber after Zelenskyy's speech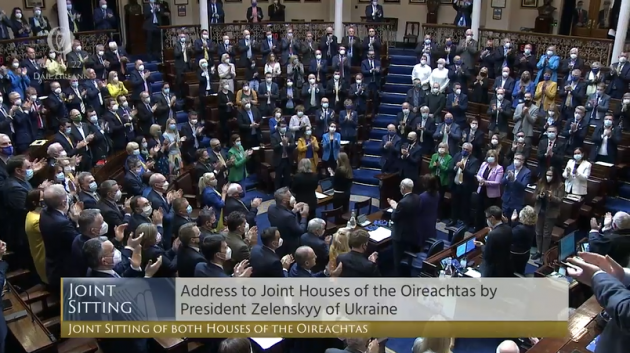 Source: Oireachtas TV
10:14AM
There's a strong wave of applause for about half a minute in the Dáil as TDs and Senators stand to their feet.
10:13AM
His final words: "I'm grateful to Ireland. Slava Ukraini."
10:13AM
"We need to start thinking about restoration of our country after the war," the Ukrainian president said.
He said Ukraine is inviting countries to help rebuild the country.
"Ireland is always welcome to do so."
10:12AM
He said there are still some political leaders in the world who do not believe that stopping Russia is more important than any financial loss to other countries from sanctions.
"I am sure your leadership can make a difference and change this."
10:11AM
Some more images as the address continues, from the Oireachtas livestream: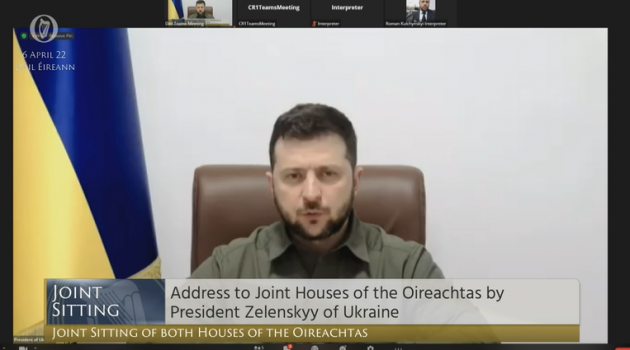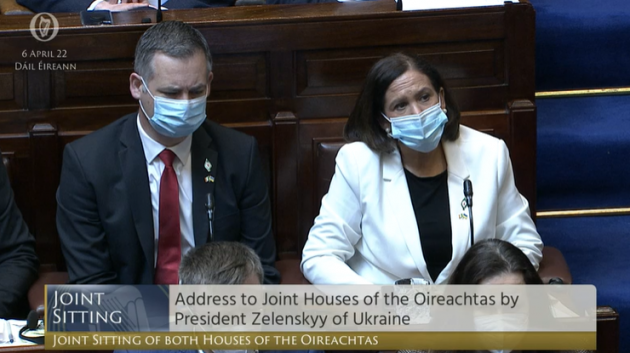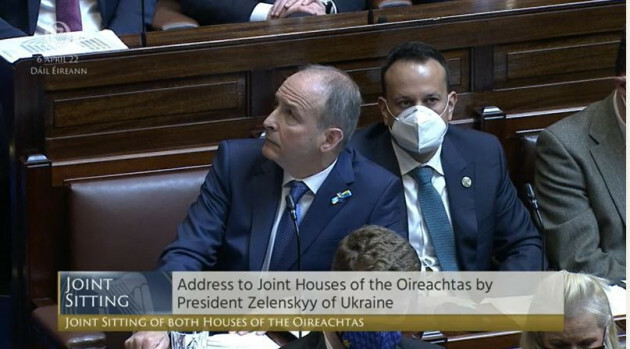 10:11AM
He asked Ireland to push other EU countries to impose more sanctions on Russia and cut it off from global markets and its income from oil.
10:10AM
Directly referencing Ireland's response to the invasion for the first time, Zelenskyy said: "Even though you are a neutral country, you have not remained netural to the… mishaps Russia has brought to Ukraine."
"I am grateful to you. To every citizen on Ireland, thank you for supporting sanctions against Russia."
He also thanked Irish people for their humanitarian donations
10:08AM
"When we're hearing new rhetoric about sanctions against Russia, I can't tolerate any indecisiveness after everything we have gone through and everything Russia has done," Zelenskyy said.
"We still have to convince, even some European countries, to abandon the Russian market."
10:07AM
Russia is trying to destroy "everything that makes us Ukrainians", he says.
10:07AM
Pictured: Zelenskyy addresses TDs and senators live over video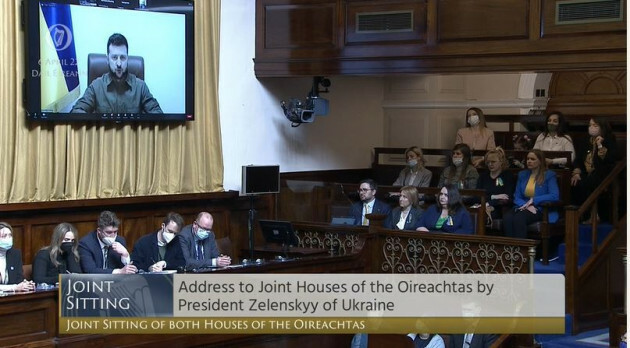 10:06AM
"In the 42 days of all-out Russian war, at least 167 children were killed in Ukraine," he said.
"We don't know yet all the atrocities of Mariupol and victims in other areas of Ukraine where fighting is still going on."
10:05AM
Discussing Russia's actions, he says it "may seem none in the present day world would dare to do this but these are the facts".
10:04AM
Russia is not allowing food or other basic supplies to enter Mariupol, Zelenskyy describes.
He says countless homes have been destroyed in the city after the weeks of brutal attacks.
10:03AM
"They are destroying our infrastructure and deliberating provoking food prices," Zelenskyy says.
He says Russia is using hunger as a "weapon".
10:02AM
Zelenskyy opens by describing Russia's actions against Ukraine, saying it is destroying things that are sustaining people's livelihoods like storage facilities for food and fuel and agricultural equipment, as well as putting mines in fields.
9:59AM
Ceann Comhairle Seán Ó Fearghaíl has just opened the joint sitting. 
Ukrainian President Volodymyr Zelenskyy is waiting virtually to speak in a few minutes.
9:56AM
You can also watch the livestream here:
9:51AM
The joint sitting of TDs and senators that Zelenskyy will speak to is due to start in just under ten minutes – it'll be streamed live on the Oireachtas website.
We'll have up-to-date coverage of his speech and the chamber's reaction here on The Journal.
9:45AM
Here's the last map from the Press Association on Russia's movements in Ukraine: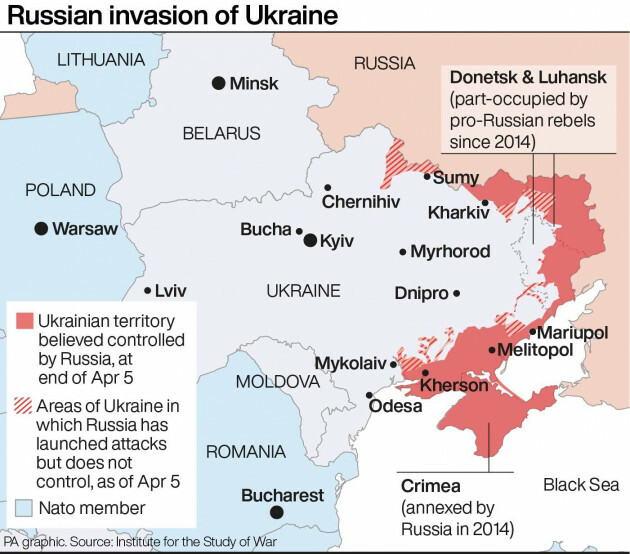 Source: Press Association Images
9:24AM
The Pope has commented on the war in Ukraine again this morning, condemning "ever more horrendous cruelty" after the attacks in Bucha.
"The recent news about the war in Ukraine, instead of bringing relief and hope, instead attests to new atrocities, such as the Bucha massacre," Pope Francis said during his weekly general audience.
"Ever more horrendous cruelties, also perpetrated against defenceless civilians, women and children."
9:10AM
The latest intelligence update from the UK's Ministry of Defence says that Russia has continued to strike the southern porty city of Mariupol and most of its 160,000 remaining residents have no light, communication, medicine, heat or water.
8:58AM
President of the European Council Charles Michel has said that the EU must impose oil and gas sanctions on Russia "sooner or later".
Speaking to the European Parliament today, he urged sanctions on Russia's key exports after calling the deaths of civilians in parts of Ukraine war crimes.
He described the deaths as "yet more proof that Russian brutality against the people of Ukraine has no limits".
8:46AM
The government is considering changes to the Fair Deal rules that could free up to 8,000 homes for rental to house Ukrainian refugees.
Housing Minister Darragh O'Brien told Cabinet yesterday that he plans to speed up reform of the Nursing Home Support Scheme (known as the Fair Deal Scheme) to allow people to rent unused, vacant homes without financial penalty.
The scheme provides financial support for people who require long-term nursing home care.
Under the current rules, 80% of rental income for a vacant home is taken by the Government to go towards the cost of nursing home care. The rule change would allow the homeowner to keep the revenue.
8:32AM
Writing for The Journal this morning, economist Brian O'Boyle says Ireland could help Ukraine by cutting off the flow of Russian money through the country.
"Establishment voices are increasingly belligerent in their attempt to use the invasion of Ukraine to undermine Ireland's neutrality," O'Boyle writes.
"What they won't tell the public, however, is that the most effective thing that the government could do is to put itself on the side of peace and dismantle the shadow banking system that has helped to enrich US capitalists and Russian oligarchs alike."
8:19AM
Pictured: A mural of President Zelenskyy by the artist Phil Atkinson in Granard, Co Longford

A mural of President Volodymyr Zelenskyy by the artist Phil Atkinson in Granard, Co Longford

Source: PA Images
8:16AM
At a joint sitting of the Houses of the Oireachtas, Ukrainian President Volodymyr Zelenskyy will address the Dáil and the Seanad this morning.
The TDs and Senators will be the most recent audience of one Zelenskyy's many virtual appearances to world parliaments, where he has been rallying support for Ukraine.
The sitting is expected to run for around an hour, including Zelenskyy's speech and approximately 40 minutes of responses from the Taoiseach, the Tánaiste and leaders and representatives from political parties and technical groups.
8:09AM
Good morning. Lauren Boland here – let's look at what's happening in the war in Ukraine today: 
Ukrainian President Volodymyr Zelenskyy will address the Dáil and the Seanad this morning
The US and EU are expected to introduce new sanctions on Russia soon after killings in the town of Bucha
The government is considering changes to the Fair Deal rules that could free up to 8,000 homes for rental as part of its response to house Ukrainian refugees
Writing for The Journal, economist Brian O'Boyle says Ireland could help Ukraine by cutting off the flow of Russian money through the country