When Marina Ermoshkina, a Russian TV presenter, learned that employees at a Chanel store in Dubai, United Arab Emirates, had refused to sell a high-end bag to a Russian customer, after asking her to sign papers attesting that she would not wear the bag in Russia, she reacted in shock.
Ermoshkina, 28, bought a pair of gardening scissors, took a video of herself as she cut her Chanel bag in half and posted it to Instagram.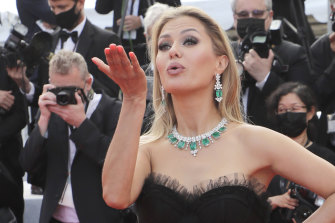 "This is Russophobia," she said in a phone call from Moscow. "This is the purest form of discrimination."
Hundreds of thousands of people saw her video, which was also broadcast on Russian television. Soon afterward, Victoria Bonya, a Russian social media influencer with 9.3 million Instagram followers, followed suit, taking a pair of scissors to a Chanel bag that sells for thousands of dollars.
"If Chanel house does not respect the clients, why do we have to respect Chanel house?" she said as she butchered her bag from the iconic French brand on video.
Chanel, like many international companies, suspended operations in Russia in response to President Vladimir Putin's invasion of Ukraine. In addition to temporarily closing stores and suspending deliveries in Russia, Chanel also began asking customers in its global stores to attest that the items they were purchasing would not be used in Russia.
In a statement, the company said that it was attempting to comply with European Union and Swiss sanctions that prohibit the "sale, supply, transfer or export, directly or indirectly, of luxury goods to any natural or legal person, entity or body in Russia or for use in Russia." The prohibition, the company said, applies to luxury goods whose value exceeds €300 ($438) per item, which applies to most of Chanel's products.
This angered Ermoshkina, who said that while withdrawing from Russia was the company's choice, its policy against customers bringing items into the country is discriminatory and humiliating.
"If all the women are the same, why does Chanel discriminate against women for their nationality?" she said.
Chanel declined to comment on the reactions of the Russian celebrities, but in the statement, it apologised "for any misunderstanding this may have caused, as welcoming all our clients, regardless of where they come from, is a priority for Chanel." The company acknowledged that "this process of walking through the law has caused disappointment to some of our clients."
"Not a single bag, not a single thing is worth my love for my motherland."

Russian TV presenter Marina Ermoshkina
Ermoshkina said she was glad Chanel apologised, but its response did not fully satisfy her. She has put up for sale all her other Chanel belongings and said she intends to donate the profits to an association that she said helps the people of Donbas, the region of eastern Ukraine that is home to many Russian-speaking people.
Other influencers have joined her in refusing to wear Chanel clothes and accessories. Some have reposted her words: "Not a single bag, not a single thing is worth my love for my motherland."
Loading
Among them is Russian DJ Katya Guseva, who had always dreamed of owning a Chanel bag, like the Hollywood celebrities she admired. But she recently told her 500,000 Instagram followers that she no longer needed that bag. In a WhatsApp message, she wrote: "Without Chanel we will continue to live perfectly."
This article originally appeared in The New York Times.
The Business Briefing newsletter delivers major stories, exclusive coverage and expert opinion. Sign up to get it every weekday morning.