Many Poles think that more needs to be done to support the refugees, and in turn ease the burden on the volunteers and charity organizations. But no one is sure whom to blame.
Polish opposition leaders have criticized the conservative nationalist Law and Justice party for doing too little and taking credit for the work of everyday people. Others point the finger at the European Union for not giving Poland more emergency funding to respond to the crisis.
Poland's central government insists its response has been robust.
The Polish Parliament has given Ukrainian refugees permission to stay in the country legally for 18 months, granted them access to social security and health care systems, and set up programs to give small cash payments to Polish families hosting refugees in their homes.
The efforts have won Poland widespread praise and helped the government burnish an international image damaged by the ruling Law and Justice party's past hostility to non-European immigrants and asylum-seekers.
Many Ukrainians say that Poles have been incredibly welcoming and generous. But Trzaskowski said people in Poland could become increasingly resistant to supporting the refugees if more is not done to help cities like Warsaw.
"As this crisis goes on and the city services are strained… then we might expect a bit of a backlash," he said. "That's why we need a system, we need to share the burden."
The potential cracks loom large in public services such as education. Although remote learning is still an option for many refugee students, Polish Education Minister Przemyslaw Czarnek said that more than 190,000 Ukrainian children have registered in Polish schools, and that number could grow to as many as 700,000 students.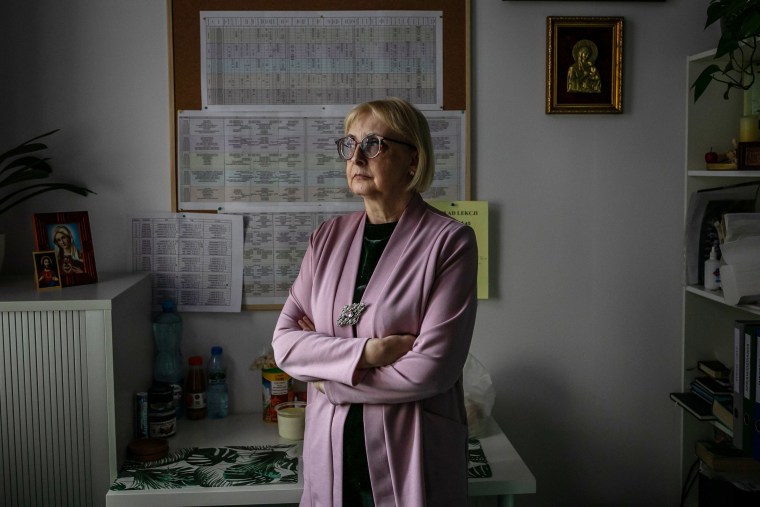 Ewa Petrykiewicz, the director of the St. Stainslaw Kostka school in Warsaw, a private school that has experience teaching children from countries such as Belarus, said that her school is uniquely positioned to take in Ukrainian students.
When the refugees began arriving in Poland, she rented additional classroom space, hired more teachers and doubled class sizes. But while the school is receiving some money from the government to help the Ukrainians, she said, she is relying heavily on private donations.
Petrykiewicz is determined not to turn away any refugee students, but the school is running out of room. And even before the war, Poland was facing a teacher shortage.
"We can expand and rent more space, but we don't have any more money to do that," she said. "Buying basic supplies like toilet paper is challenging." 
Lauren Egan is a White House reporter for NBC News based in Washington.