NATO has accused Russian President Vladimir Putin of provoking "the most serious escalation" of the war in Ukraine since it began, and said he would not succeed in deterring the alliance from supporting Kyiv.
"We have the combination of the mobilisation in Russia, combined with the reckless, dangerous nuclear rhetoric, and then today's illegal annexation, or attempt to annex parts of Ukraine," NATO Secretary General Jens Stoltenberg said.
"Together this is the most serious escalation of the conflict since the start and the aim of President Putin is to deter us from supporting Ukraine. But he will not succeed in that," he told a news conference.
He was speaking after Mr Putin proclaimed Russia's annexation of a swathe of Ukraine at a Kremlin ceremony, promising Moscow would triumph in its "special military operation" against Kyiv even as some of his troops faced potential defeat.
Mr Putin's proclamation of Russian rule over 15% of Ukraine – the biggest annexation in Europe since World War Two – has been firmly rejected by Western countries and even many of Russia's close allies.
Meanwhile a resolution introduced by the United States and Albania at the United Nations Security Council condemning the annexation of parts of Ukraine has been rejected after Russia exercised its veto.
In a vote in the council's chamber, ten nations, including the US and the UK voted in favour, while China, Gabon, India and Brazil abstained from voting.
US Ambassador to the UN Linda Thomas-Greenfield called on member states not to recognise any altered status of Ukraine and obligate Russia to withdraw its troops.
"The United Nations was built on an idea that never again would one country be allowed to take another's territory by force," she said.
Russia's was the only vote against the resolution.
Russia's ambassador, Vassily Nebenzia, complained that it was unprecedented to seek condemnation of a permanent member of the Security Council.
"Do you seriously expect Russia to consider and support such a draft? And if not, then it turns out that you are intentionally pushing us to use the right of the veto in order to then wax lyrical about the fact that Russia abuses this right".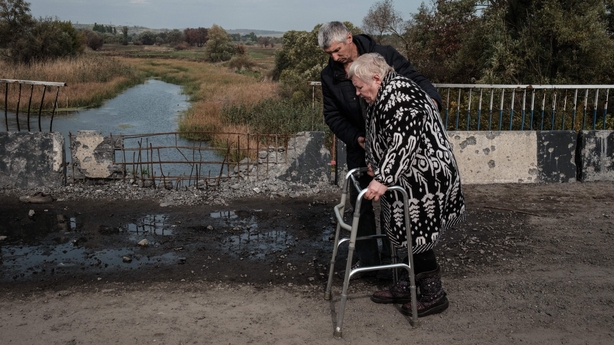 Mr Stoltenberg said Russia's earlier move was "the largest attempted annexation of European territory by force since the Second World War", adding that an area roughly the size of Portugal had been "illegally seized by Russia at gunpoint".
"The sham referendums were engineered in Moscow and imposed on Ukraine in total violation of international law. This land grab is illegal and illegitimate.
"NATO allies do not and will not recognise any of this territory as part of Russia," he added. "We call on all states to reject Russia's blatant attempts at territorial conquest. These lands are Ukraine."
He said NATO was not a party to the conflict, but it reaffirmed its "unwavering support" for Ukraine's independence, sovereignty and territorial integrity, and would continue to support the country in defending itself against Russia.
Ukrainian President Volodymyr Zelensky has said he was only ready for peace talks if and when Russia got a new president.
He also announced that Ukraine was formally applying for fast-track membership of the NATO military alliance, something Moscow fiercely opposes, and accused Russia of redrawing borders "using murder, blackmail, mistreatment and lies".
---
Read more:

Latest Ukraine headlines
---
He said however that Kyiv remained committed to the idea of co-existence with Russia "on equal, honest, dignified and fair conditions".
"Clearly, with this Russian president it is impossible. He does not know what dignity and honesty are. Therefore, we are ready for a dialogue with Russia, but with another president of Russia," Mr Zelensky said.
The US military in Europe is ready for "any contingency," as war escalates in Ukraine, US National Security Advisor Jake Sullivan said.
He added that the US will announce an immediate new shipment of weapons next week, including 18 Himars rocket systems that must first be manufactured.
G7 foreign ministers said they would "never recognise" Russia's annexation of the regions and pledged further sanctions against Moscow.
The move, they said, constituted "a new low point in Russia's blatant flouting of international law", and called the regions "integral parts of Ukraine".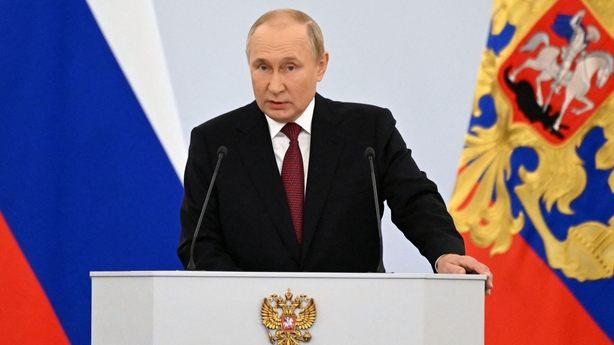 "We will impose further economic costs on Russia, and on individuals and entities – inside and outside of Russia – that provide political or economic support to these violations of international law."
The foreign ministers of Britain, Canada, France, Germany, Italy, Japan, and the United States as well as the High Representative of the European Union called on "the broader international community to reject Russia's brutal expansionism".
Mr Putin's speech comes as Russian forces in one of the four regions being annexed face being encircled by Ukrainian troops.
In one of his toughest anti-American speeches in more than two decades in power, Mr Putin signalled he was ready to continue what he called a battle for a "greater historical Russia", slammed the West as neo-colonial and as out to destroy his country, and without evidence accused Washington and its allies of blowing up the Nord Stream gas pipelines.
The four Ukrainian regions that he said Russia was absorbing had made an historic choice, he said.
"They have made a choice to be with their people, their motherland, to live with its fate, and to triumph with it. Truth is on our side. Russia is with us!" Mr Putin told his country's political elite, who had gathered in one of the Kremlin's grandest halls to watch him sign the annexation documents.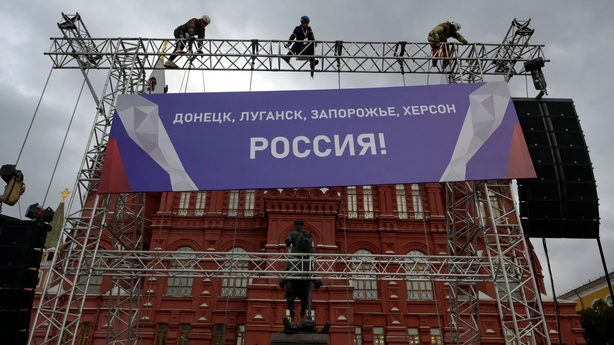 "People living in Luhansk, Donetsk, Kherson region and Zaporizhzhia region are becoming our compatriots forever," he said, referring to the regions that he said Russia was annexing.
"We will defend our land with all our strength and all our means," he said, calling on "the Kyiv regime to immediately cease hostilities and return to the negotiation table".
He said the US had set a precedent when it had dropped two atomic bombs on Japan in 1945, but stopped short of issuing new nuclear warnings against Ukraine himself, something he has done more than once in recent weeks.
The ceremony culminated in the 69-year-old leader chanting "Russia! Russia!" as he clasped the hands of the Russian-backed officials he wants to run the annexed regions, which Ukraine is fighting to win back.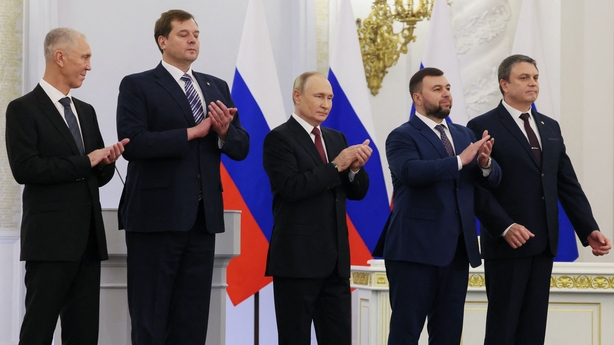 Thousands of people, some of them clutching Russian flags, then packed into Moscow's Red Square to hear celebratory pop music.
In Ukraine's eastern Donetsk region, Russia's garrison in the town of Lyman was in serious trouble with reports from both sides saying Russian forces were nearly surrounded.
Ukraine said it had all the supply routes to the Russian stronghold in the crosshairs of its artillery in the east, and told Moscow it would have to appeal to Kyiv if it wanted its forces to be allowed out.
The encirclement could leave Ukrainian forces an open path to seize more territory in Luhansk and Donetsk provinces, captured earlier in some of the war's bitterest fighting.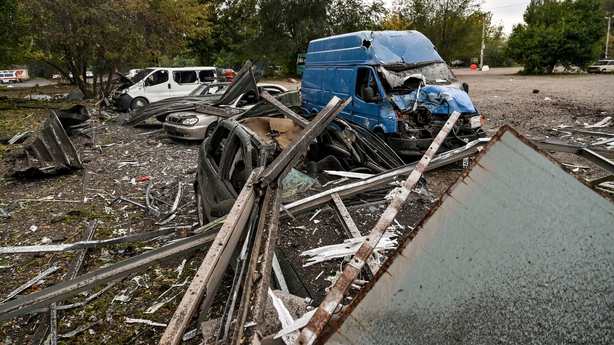 The war's brutality was further hammered home just hours before Mr Putin's speech when missiles struck a convoy of civilian cars preparing to cross the frontline from Ukrainian-held territory in Zaporizhzhia province.
Ukrainian officials said at least 30 people were killed and dozens injured after the convoy was shelled by Russian forces.
"Thirty dead and 88 wounded as a result of another Russian war crime in Zaporizhzhia. Among the dead are two children: an 11-year-old girl and 14-year-old boy," Ukraine national police chief Igor Klymenko said on social media.