A former Russian commander has suggested that footage of drunk soldiers mobilized to fight in Vladimir Putin's invasion of Ukraine is not unusual because "that's how it's always been in our country."
Andrey Gurulyov made the comment during a discussion on the Russia-1 channel following widely shared videos of recruits looking worse for wear. Clips of troops making toasts and one even staggering on an airport tarmac come amid criticism that Vladimir Putin's mobilization was in disarray, with older and even sick recruits being called up.
But Gurulyov, who has served as deputy commander of the Southern Military District, and is now an MP, suggested that it was common to see recruits intoxicated, telling anchor Vladimir Solovyov, "naturally they're all a bit tipsy—to put it mildly. "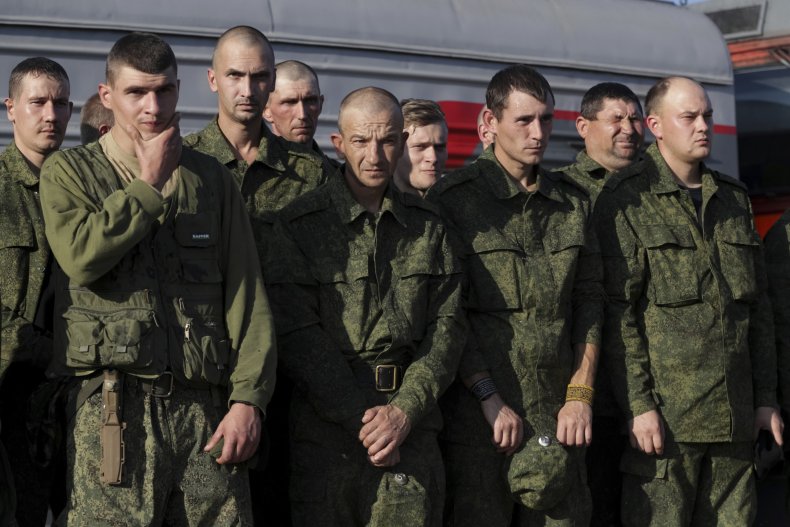 "Then some say, 'can you imagine, they arrived drunk.'" I say, 'listen, oh please come on, I've seen how they recruited…how we called in reservists to training camps," referring to the process during the first and second Chechen wars.
"Never in my life did I see any sober people there," he said, as Solovyev smirked, "It's the truth— that's how it's always been in our country."
"You just have to maintain order," he continued, "even those who are drunk happily sleep in their tents. They'll sleep it off and go study military science.
"It's always been this way and always will be," he added in the clip which was tweeted by journalist and Russia watcher Julia Davis, who wrote: "After seeing videos of freshly-mobilized Russians—so drunk they could barely stand—many asked me whether it's for real. Hear it straight from the horse's mouth."
Kremlin propagandists on state channels such as Solovyov and head of the broadcaster RT, Margarita Simonyan, have criticized how troops have been mobilized, without pointing the finger at the Russian leader himself.
Larissa Doroshenko, a Russian disinformation expert who is a teaching associate at Boston's Northeastern University, said that state media outlets had to address the botched mobilization because criticism from citizens made it impossible to ignore.
By admitting that the mobilization was not going to plan was the first step to trying to change the narrative on it. "They had started to recognize there were so many mistakes which had gone viral that they decided 'we need to address that,'" she told Newsweek.
She said figures like Solovyev and Simonyan have been painting themselves as part of civic society who can help with the mobilization mistakes able to talk to local military officials.
Doroshenko said: "They are trying to portray themselves as the people who you can go and complain to and they will fix it and they show their success stories in their social media channels.
"They were just saying 'talk to us, show us this information, share with us the details, we're going to solve your problems, we are doing our best.
"They are building the narrative that 'we are here for you to help you'. They also building trust with people so that later on (the audience) might be more prone to believe that they have their interests at heart."
But this still took into account Kremlin interests. "They are directing the blame away from the main chiefs and commanders towards local people and local mobilization points," she added.
There is widespread discontent at the mobilization announced by Putin. Thousands have been arrested following nationwide protests against the call up while many men of military age have tried to flee the country to avoid the draft.
On Thursday, Putin acknowledged that the mobilization had not gone smoothly and said that "all mistakes" made should be corrected.