Russian military units withdrawn from the country's frontier with Finland could take years to return to full strength following "severe casualties" in Ukraine, a senior diplomat has said, as Helsinki prepares to join the NATO alliance along with neighboring Sweden.
Kai Sauer, the under-secretary of state for foreign and security policy at the Finnish Foreign Ministry, told Newsweek on the sidelines of the Helsinki Security Forum on Saturday that there is no imminent security threat to Finland, partially because of Russia's current military weakness along the frontier.
Multiple reports have indicated the redeployment of Russian military units from its borders with European Union and NATO nations to the battlefields of Ukraine, where Moscow's forces are suffering serious casualties and being pushed back on multiple axes of Ukrainian advance.
Sauer said the same is true of the 830-mile Finnish-Russian frontier, which pending approval from the Hungarian and Turkish parliaments will soon become NATO's newest front line with the Kremlin.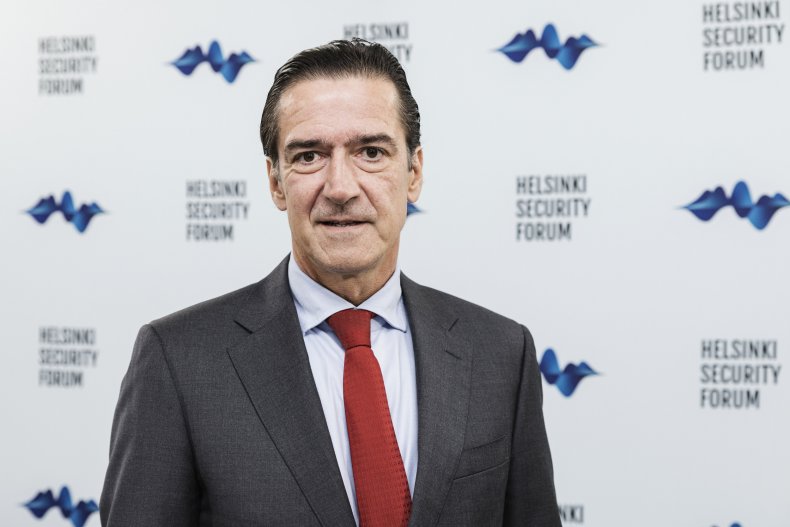 "Our observation is that the border at least—the land border—is rather quiet," he said. "Russia has redeployed the troops they had along our border to Ukraine. And also in terms of tourism, the numbers have drastically dropped since we have issued our restrictions. So it's rather calm."
The same is true at sea, Sauer added. "Yes; there hasn't been anything in public. Maybe the airspace violation statistics, there might be some minor increase, but even there, nothing drastic."
Asked how long it would take for Russian strength along the border to return to pre-invasion levels, Sauer told Newsweek: "It might take one to three years, really depending on how the war progresses, and also how the training of the new recruits takes place."
Finnish authorities are also tracking the fortunes of formations traditionally deployed along its border. "This is something we follow through the Russian media," Sauer said. "And indeed, there have been units which have taken severe casualties."
Newsweek has contacted the Russian Foreign Ministry for comment.
Finland and Sweden say they are alert to potential Russian aggression—whether conventional or hybrid—as they prepare to join NATO. Moscow has repeatedly threatened retaliation for the historic shift of both countries away from neutrality and into the transatlantic alliance, which has thrown its weight behind Ukraine's defense against Moscow's ongoing invasion.
Last week's suspected sabotage of the Nord Stream natural gas pipelines in the Baltic Sea has particularly perturbed NATO and EU allies. Sauer, like other Western officials, did not openly attribute the four explosions to Moscow.
"It is the nature of hybrid activity that operations are difficult to attribute to anybody," he said. "Even with Nord Stream, it is difficult to say with 100 percent security—before this investigation has been completed—who was behind it."
"The Russian reaction to Finnish and Swedish NATO accession has been verbal, as far as we know, and very clear and open," he added. "That was to be expected."