Russian Defense Minister Sergei Shoigu's screen was notably absent during a scheduled Security Council video conference meeting, during which President Vladimir Putin said martial law will will be imposed in the four regions of Ukraine that Moscow proclaimed to have formally annexed.
The Kremlin said that Shoigu was in attendance, but some were quick to point out that Shoigu couldn't be seen on screen with other attendees as Putin spoke.
"Kremlinologists will note that [General Valery] Gerasimov and [National Guard Director Viktor] Zolotov, who aren't permanent security council members, are there, and Shoigu – who is a permanent member – is not," tweeted Max Seddon, the Moscow bureau chief for the Financial Times, before the Kremlin's clarification.
It comes as speculation has been mounting over Shoigu's future, and as the Putin loyalist has come under increasing fire over his handling of the Ukraine war.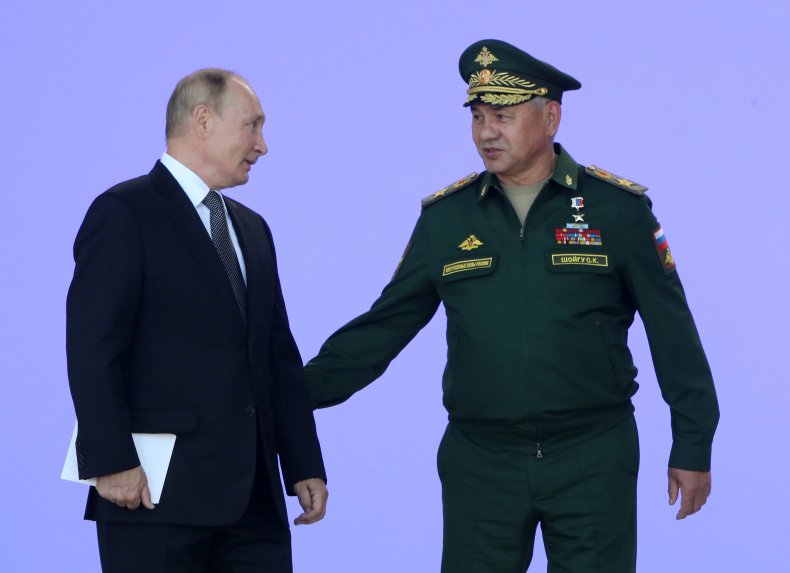 Putin used the meeting on Wednesday to announce that he had signed a decree authorizing martial law which would apply to the regions of Donetsk, Luhansk, Zaporizhzhia and Kherson.
Putin said during a video conference that the decree will "immediately be sent for approval to the Federation Council, and the State Duma will be informed of the decision," state news agency TASS reported.
Shoigu's absence on screen comes as he faces criticism amid a series of successful counteroffensives by Ukraine to retake territory that was seized by Putin's forces in the early stages of the war.
Kirill Stremousov, a Kremlin-installed leader of occupied Kherson, said on October 6 that "incompetent military leaders" are to blame for the retreat of Putin's troops in the region.
Stremousov claimed many have said that Shoigu, the longest-serving minister in the Russian government, should shoot himself amid Putin's flagging war.
"Many people say that the Minister of Defense, who allowed this state of affairs to happen, could, as an officer, shoot himself," Stremousov said in a video posted on his Telegram channel. "But, you know, the word 'officer' is an incomprehensible word for many."
Stremousov also said that Russia's defense ministry consists of "ministers, mediocre and corrupt generals and marauders."
British intelligence has also previously assessed that Shoigu is regularly ridiculed by Putin, while others have said Shoigu is being made a scapegoat for Russia's military failures.
Russian officers and soldiers with firsthand war experience have likely routinely mocked Shoigu for his "ineffectual and out-of-touch leadership" as Russian progress has slowed, the U.K.'s defense ministry said in an intelligence update on Twitter in late August.
Shoigu was chosen by Putin to be defense minster in 2012, despite having no military background or combat experience. He oversaw Russia's annexation of Crimea in 2014.
The ministry, citing recent independent Russian media reports, suggested Shoigu is being sidelined within the Russian leadership, with operational commanders briefing Putin directly on the course of the war.
More recently, Vladimir Solovyev, one of the Kremlin's chief propagandists, said on Russian state TV that Shoigu transferring "to another job" could solve the defense ministry's recent failures.
Newsweek reached out to Russia's defense ministry for comment.