A video reportedly shows Russia's Chechen Republic leader Ramzan Kadyrov being given Ukrainian prisoners of war (POWs) by his teenage son.
The footage was shared to Twitter on Friday by Alex Kokcharov, a London-based risk analyst who focuses on Russia and Ukraine.
"In this video from #Grozny, #Chechnya, south #Russia, 16-yo son of Chechnya head Ramzan Kadyrov is "gifting" to his father three Ukrainian POWs captured in #Ukraine. If this is not a theatre but real life situation, this is modern slavery," Kokcharov tweeted.
The video appears to show Russian soldiers walking towards Kadyrov, a staunch supporter of Russian President Vladimir Putin, with the prisoners. The prisoners, who are identified as Ukrainians, are bent over with masks covering their faces and their hands tied behind their backs.
Representative Adam Kinzinger, an Illinois Republican, retweeted the footage on Friday, writing, "Demons." Kinzinger is one of the most vocal supporters of Ukraine in the U.S. Congress, consistently tweeting updates about the war and attacking critics of NATO's continued support for Kyiv.
Newsweek could not verify the authenticity of the video and has reached out to the Ukrainian and Russian foreign ministries for comment.
On Friday, a lawyer told the Caucasian Knot, a news outlet that covers the Caucasus region, that another video reportedly showing Kadyrov speaking with POWs appears to violate the prisoners' rights.
"POWs should give their written consent to filming the video and posting thereof in the public domain," attorney Maxim Grebenyuk told the outlet. He added that such prisoners should only be transported when accompanied by military police.
"The state is responsible for POWs since the moment they are taken—responsible for their lives, custody conditions and health … They must be transported under a convoy of the military police," Valentina Melnikova, head of the Union of Committees of Soldiers' Mothers, told the Caucasian Knot.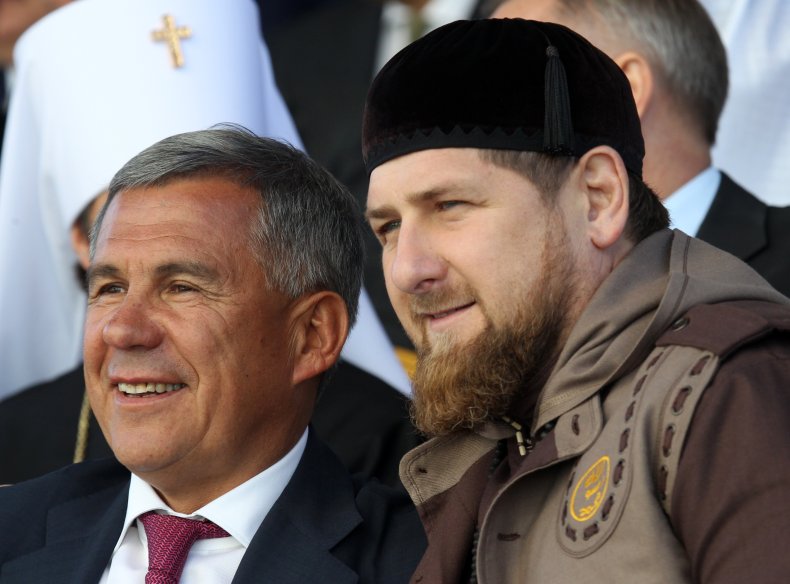 Earlier this week, Kadyrov said that his three teenage sons have been fighting in the war in Ukraine.
In a post on Telegram, Kadyrov said his sons Akhmat, 16, Eli, 15, and Adam, 14, "visited the contact line, where fierce battles with Ukrainian nationalists are currently taking place."
A video he posted on the social media platform reportedly shows the teenagers firing and posing with weapons on the front lines. Earlier this month, the Chechen leader said that age "should not interfere with the training of the defenders of our motherland."
"I always believed that the main goal of any father is to instill piety in his sons and teach them to protect the family, the people, the Fatherland…It's time to show themselves in a real fight, and this is their desire, I only welcome [it]," he added.