Family and domestic violence leave bill passes Parliament
The family and domestic violence leave bill has been passed by Parliament on the voices.
Workers will now be able to access 10 days of paid leave if they are in a family or domestic violence situation.
MPs give applaud after the bill's passage.
Meta's Instagram user base reaches 2b, closing in on Facebook
Meta's Instagram now has 2 billion monthly active users worldwide, closing in on the 2.96 billion who use Facebook, in a sign of the social media giant's shifting makeup.
The company disclosed the number during an otherwise-gloomy earnings report Wednesday, when a shaky ad market clouded Meta's forecast and sent its shares tumbling.
It also said that more than 2 billion people now use its messaging app, WhatsApp, every day. Meta's total monthly users for its family of apps number 3.71 billion worldwide.
In June 2018, the company said Instagram surpassed 1 billion monthly active users. Since then, the app underwent one of the biggest transformations since it was acquired by Facebook – now called Meta – a decade ago.
Instagram shifted away from exclusively showing posts from people users followed. Instead, it provided more algorithmically selected content based on what it thinks they're interested in. The service also added TikTok-style short-form videos, called Reels, which have been prioritised over other video formats on the platform.
Meta made those changes in an attempt to keep Instagram relevant in an increasingly crowded social media industry.
Over the past few years, ByteDance's TikTok surged onto the stage with its popular topics-focused feed of videos. On TikTok, videos are algorithmically pushed out to people who are interested in a certain subject — rather than just people who follow a post's creator.
It's important for Meta that its social media platforms continue to keep users coming back and spending time on Facebook and Instagram. The company makes the majority of its revenue from advertisements placed on those platforms. Lately, marketers have been spending less on digital ads amid uncertain economic conditions, leaving Meta and its rivals fighting for fewer dollars.
Ukrainian troops holding out against crazy Russian tactics: Zelensky
Ukrainian troops are holding out against repeated attacks near two key towns in the eastern Donbas region, President Volodymyr Zelensky said on Wednesday (Thursday AEDT), describing the Russian tactics as crazy.
Zelensky, speaking in an evening video address, also said there would be good news from the front, but gave no details.
The most severe fighting is taking place near Avdiivka, outside Donetsk, and Bakhmut, further to the northeast, he said.
"This is where the craziness of the Russian command is most evident. Day after day, for months, they are driving people to their deaths there, concentrating the highest level of artillery strikes," he said.
Russian forces have repeatedly tried to seize Bakhmut, which sits on a main road leading to the Ukrainian-held cities of Sloviansk and Kramatorsk.
Zelensky adviser Oleksiy Arestovych said that on one particular day, the Russians had attacked Bakhmut eight times before lunch and been pushed back every time.
Zelenskiy did not mention what was happening near the southern city of Kherson, which is held by pro-Moscow forces. Ukrainian troops say they expect a tough fight there.
"Generally, we are strengthening our positions all over the frontline, reducing the invaders' capabilities, destroying their logistics, and preparing good news for Ukraine," he said.
Separately, Russian-installed authorities in Shakhtarsk, just to the east of Donetsk, said Ukrainian shelling had set ablaze fuel tanks at the town's railway station.
Ukrainian forces, some equipped with artillery supplied by the United States and other allies, have methodically shelled Russian fuel and ammunition bases and railway lines.
Zelensky also said that in the latest prisoner exchange between the two sides, 10 Ukrainians had been freed.
The side that 'freezes first loses': War in the Ukrainian winter
Special correspondent Misha Zelinsky talks about what it's like covering the war on the ground as Ukrainians prepare for their biggest test yet – winter.
"Putin wants to freeze Ukrainians in their homes and friends I've been speaking to – not just in Kyiv but other cities – are increasingly dealing with long power outages. It was put to me that whichever side freezes first will be the side that loses."
Listen below or search for The Fin on Apple, Spotify or wherever you get your podcasts.
Labor's IR bill will offer work flexibility
Workplace Relations Minister Tony Burke is set to introduce Labor's wide-ranging industrial relations legislation into parliament today. On what will be in the bill, he said it would contain laws about the gender pay gap and work flexibility.
Burke said flexible work arrangements and better wages were key for workers. He said employees should be entitled to say they are unable to take on a shift if there is a roster change, but employers currently can force employees' hands.
"In modern Australia, we just can't have a situation where if you're given a roster change that upends your life, or you've got caring responsibilities, you've got nowhere to go," he said.
ACTU Secretary Sally McManus has said the proposals in the bill were "not a quick solution, but it's an absolutely essential structural solution".
On concerns that multi-employer bargaining – which is also a key component of the bill – will lead to higher rates of industrial action, Burke said Australia historically is not a country where strikes happen frequently.
Pressed about concerns that more strikes could be on the way, he said industrial action already occurs on single employer agreements, and that the bill will look to give more powers to the Fair Work Commission to resolve these disputes.
Energy price surge could close businesses
Treasurer Jim Chalmers has said the federal government is looking at how it can bring down soaring energy prices for households and businesses.
He specifically noted there is worry about businesses potentially hitting the wall, with manufacturers raising alarm bells about the consequences of rising power bills.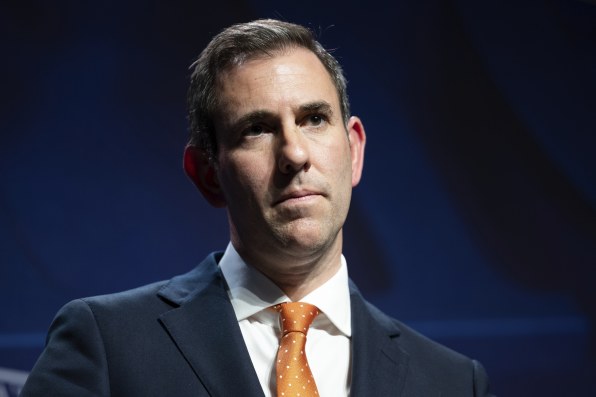 "I am concerned the pressure on some of our local industries and some of our manufacturers in particular will be too much," he told ABC Radio.
"I am really worried about the impact of high gas prices and high energy prices, on Australians broadly, but particularly on Australian industry – we are seeing local manufacturers and local industry under an extreme amount of pressure."
Asked about price caps and windfall profits tax, Chalmers has said he was considering all options but hinted that the latter was unlikely.
Jim Chalmers has previously ruled out hitting gas exporters with a windfall profits tax, and today said this: "People do need to understand that the PRRT (petroleum resource rent tax) take in the near term has gone up a little bit. I know that a lot of people would rather that went up a lot more, I understand that, respect that, but it has gone up a little bit and the company tax take has gone up considerably."
Greens leader Adam Bandt, who appeared on ABC Radio immediately after the treasurer, again called for windfall profits tax. He also called for Labor to place price caps on the energy market.
"I think it's clear that privatisation has failed. The market approach to electricity has failed. The government needs to look at capping prices. These price rises that have been driven by coal and gas and fuelled by international events are really hurting people."
Labor's power bill promise did not account for severity of Russia-Ukraine war
Treasurer Jim Chalmers has said Labor did not account for the severity of the Russia-Ukraine war when it maintained its election promise to lower power bills by $275 by 2025.
The treasurer conceded he did not foresee the severity of Russia-Ukraine war's hit on electricity prices even after the war started.
"I think the full impact of the war in Ukraine is starting to be felt when it comes to electricity prices. We didn't have these forecasts obviously, which are relatively new forecasts for electricity prices," he told ABC Radio.
Pressed on why Labor has continued to say it will keep its power bill election commitment, Chalmers went with familiar lines: "That's because it goes to the fundamental fact here, which is renewable energy is not just cleaner energy. It's also cheaper energy."
Russia, NATO hold nuclear drills as Ukraine villages pounded
NATO and Russia's military alike staged planned annual nuclear exercises Wednesday as the Russian president repeated the unfounded claim that Ukraine plans to set off a radioactive "dirty bomb." On the battlefront, Russian forces pounded more than 40 Ukrainian villages over the past day.
Russian President Vladimir Putin remotely monitored the drills of his strategic nuclear forces, which involved multiple practice launches of ballistic and cruise missiles in a show of force.
The drills were Russia's first nuclear exercises since the beginning of the war
Russian Defence Minister Sergei Shoigu reported to Putin that the exercise simulated a "massive nuclear strike" retaliating for a nuclear attack on Russia.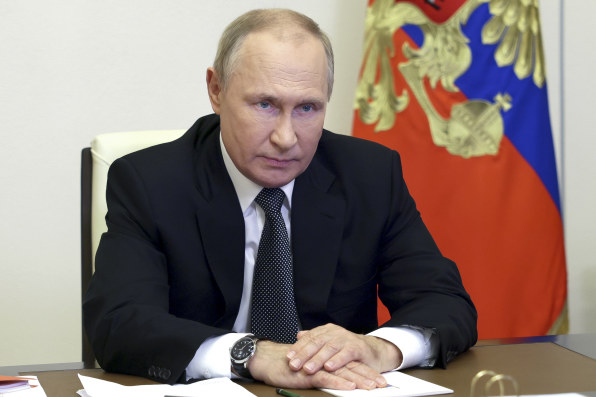 The Biden administration said Russia provided advance notice of the annual drills. NATO is carrying out its own long-planned annual nuclear exercises in northwestern Europe.
Without providing any evidence, in remarks carried by Russian TV, Putin said Ukraine plans to "use a so-called 'dirty bomb' as a provocation" and contended the United States was using Ukraine as a "battering ram" against Russia and its regional allies, turning the country into a "testing ground for military-biological experiments."
It was the first time Putin himself made the unsubstantiated dirty bomb allegation, which his officials have been repeating since last week.
Shoigu on Wednesday called his counterparts from India and China to share Moscow's concern about "possible Ukrainian provocations involving a 'dirty bomb,'" according to the Russian Defence Ministry.
On the battlefront, Ukrainian officials said fighting in more than 40 villages killed at least two civilians and sustained the terror that forces people into air raid shelters each night.
Russian forces launched five rockets, 30 air strikes and more than 100 multiple-launch rocket system attacks on Ukrainian targets, the Ukrainian armed forces general staff said.
A Ukrainian official reported that a Russian strike hit a gas station in the city of Dnipro, killing two people, including a 25-year-old pregnant woman in a car with her husband. He was reported seriously hurt in the attack late Tuesday.
Ukrainian saboteurs attacked a police station in the southern port and industrial city of Kherson with grenades on Wednesday, Russian-installed officials reported on social media. There were no immediate reports of casualties.
Australian forces get the nod to train Ukrainian soldiers
Seventy Australian soldiers will be deployed to the United Kingdom to help train Ukrainian troops in their war against Russia while another 30 Bushmaster armoured vehicles will be sent to the battlefield.
Prime Minister Anthony Albanese and Defence Minister Richard Marles will on Thursday announce the fresh round of military aid to Ukraine, taking Australia's contribution to defending the eastern European nation to $655 million.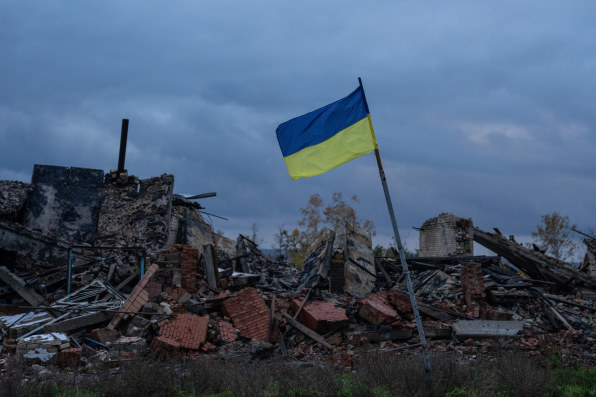 The Australian personnel will be part of a multinational training exercise, Operation Interflex, which was established by the British government. Canada, New Zealand, the Netherlands, Sweden, Denmark and Finland are among the countries helping with the training mission.
More than 5000 Ukrainian troops have already received basic training in warfighting and first aid.
The Australian troops will arrive in the UK in January. The government says no personnel will enter Ukraine but had not responded whether they would go to other European countries such as Germany where Ukrainians are also undertaking training.
Chalmers open to gas price cap as political pressure builds
Forcing down prices through government intervention will be more effective than sending consumers cheques to help them cope with high-energy costs, Treasurer Jim Chalmers said, as he opened the door to imposing a domestic price cap on gas.
Dr Chalmers' preparedness to embrace direct intervention, which was likened by Santos boss Kevin Gallagher to the antics of the Argentinian government, came as political pressure over energy prices escalated in the wake of Tuesday's budget.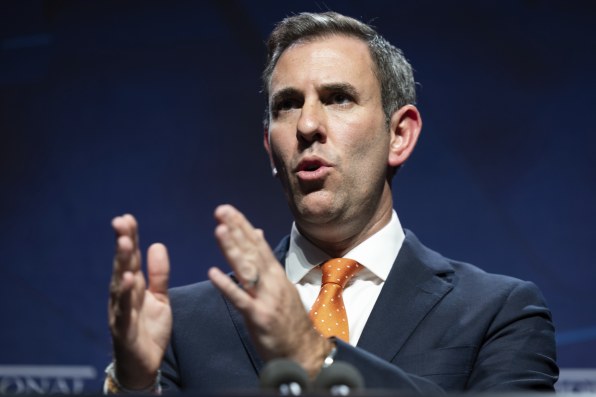 The budget forecast electricity prices for this financial year would increase by 20 per cent, and by 30 per cent next year, for a total increase of 56 per cent. Growth is forecast to fall to five per cent the year after.
Gas prices were forecast to rise by 40 per cent for this year and 40 per cent again next year.
With the Labor's election promise to lower average household energy bills by $275 a year by 2025 looking unachievable, and inflation and interest rates running rampant, the government was unable to offer cost-of-living assistance in the budget for fear of making inflation worse.
"I believe that more effective than sending people cheques to deal with it in the near-term, that a better avenue for us to explore is on the regulatory
side and, beyond that, I don't want to limit our options," he told the National Press Club in Canberra on Wednesday when pressed on price caps.
He also hinted at toughening the voluntary code of conduct which governs how supply contracts are negotiated.