The State Inspectorate for Nuclear Regulation of Ukraine said this week that Russian forces are building an "unknown structure" by Europe's largest nuclear power plant.
The State Inspectorate for Nuclear Regulation of Ukraine said in a statement on its website on Wednesday that Russian forces are constructing the structure at the dry storage site of the occupied Zaporizhzhia Nuclear Power Plant in Ukraine.
The inspectorate, which is the central government executive authority responsible for the formation and implementation of state policy in the field of nuclear safety, said it had seen "a violation of the requirements of Ukrainian legislation, norms, rules and standards of nuclear and radiation safety" at the site.
The unauthorized construction is at one of the seven nuclear installations at the Zaporizhzhia Nuclear Power Plant, it said, adding that carrying out construction, installation and commissioning works in the scope of reconstruction and modernization is prohibited.
Additionally, occupying Russian forces are not allowing power plant personnel access to the site of construction, the inspectorate said in its statement.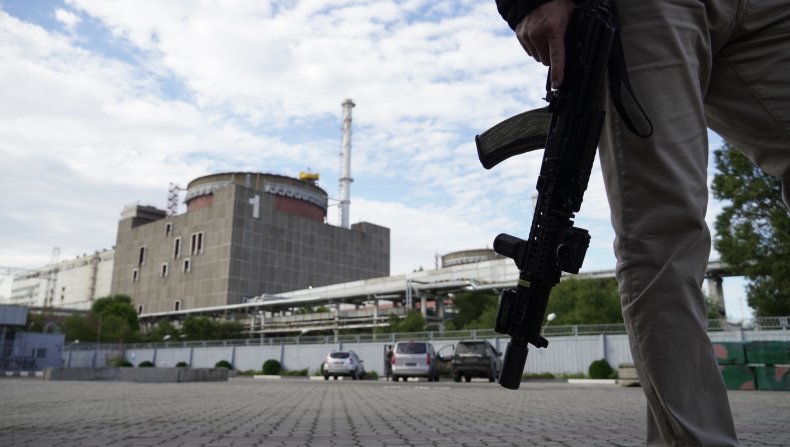 This is not the first time there has been news about secret construction work at the plant. Energoatom, Ukraine's nuclear energy operator, said in a statement last week that Russian forces have been carrying out unauthorized construction work at the nuclear power plant.
It also said that Russian forces occupying the area are blocking Ukrainian personnel from accessing the area.
The Energoatom statement said it "assumes" that Russian officials controlling the area "are preparing a terrorist act using nuclear materials and radioactive waste stored at" the plant.
According to the Energoatom statement, 173 containers containing spent nuclear fuel were at the plant's dry spent fuel storage facility.
"Destruction of these containers as a result of [an] explosion will lead to a radiation accident and radiation contamination of several hundred square kilometers of the surrounding area," Energoatom said.
The Zaporizhzhia Nuclear Power Plant was seized by the Russian military on March 4, and since then, the occupying forces have used the facility to store equipment and ammunition, Ukrainian officials have said.
Energoatom said Wednesday that the value of assets destroyed and damaged at the plant as of November 1 is approximately $763,800, based on preliminary data.
"The final amount of losses and damages inflicted by Russia on the Zaporizhzhia NPP will be determined after the de-occupation of the station and a full inspection and inventory of all property," it said.
The nuclear operator said it will take all measures in order to compensate for all the damage and losses caused to Energoatom.
Newsweek has reached out to Russia's foreign ministry for comment.