Ukrainian President Volodymyr Zelensky is welcoming the return of Benjamin Netanyahu to power after elections in Israel, saying he hopes the two countries can deepen their ties over what he characterized as common security concerns.
In his nightly national address on Monday, Zelensky said that he had congratulated Netanyahu, whose right-wing electoral coalition prevailed in last week's elections. Zelensky has accused Iran, a longstanding foe to Israel, of providing the Russian military with drones to attack Ukraine. Yair Lapid, Israel's outgoing prime minister, declined Ukraine's requests for military aid. Now, Zelensky is hinting Ukraine and Israel could find common cause under the leadership of the more hawkish Netanyahu.
"I think it is clear to everyone what Ukraine emphasizes and what security emphasis Israel makes," Zelensky said in his speech, which did not mention Iran by name. "I believe that we can significantly strengthen our states, especially since the threats to us are related."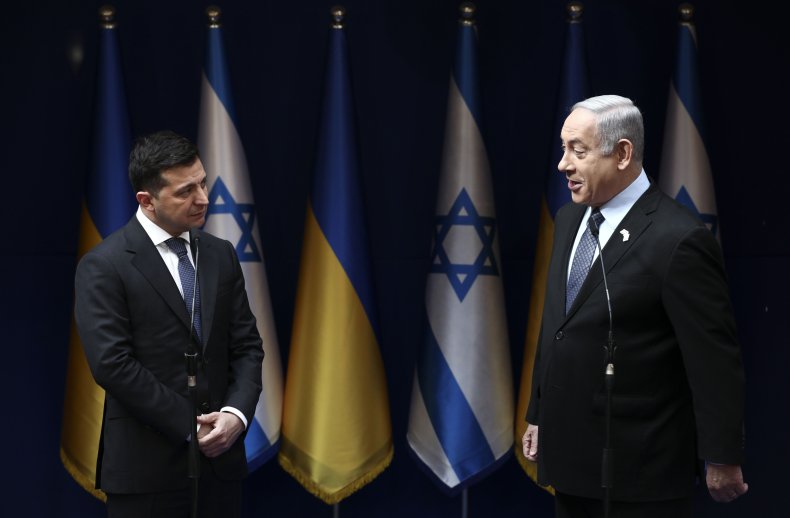 Zelensky pleaded with Israeli government officials earlier in Russia's invasion of Ukraine for military assistance. Specifically, Zelensky brought up Israel's well-known "Iron Dome" anti-missile defense system, designed to intercept and destroy short-range rockets and artillery fired in populated areas. As the war has dragged on, Ukrainian officials have continued to lobby the Israeli government for the Iron Dome to no avail.
Israel has walked a diplomatic tightrope during the war in Ukraine, expressing support for Kyiv while being careful not to antagonize Moscow, which controls the skies over neighboring Syria and has allowed the Israeli Air Force to carry out strikes on Iran-linked targets.
Toeing the line has become trickier for Israel, after Iran started supplying Russia with Shahed 136 drones that Ukraine says Russian forces have used in "kamikaze" attacks on Ukrainian cities in recent months targeting civilian infrastructure.
Netanyahu, leader of the Likud party and Israel's longest-serving prime minister, has long advocated for a more confrontational approach toward Iran's Islamist government and is expected to form a government with the support of religious and ultra-nationalist parties. Even as Iran and Russia have grown closer, Netanyahu faces another delicate balancing act. He has given mixed signals over what kind of support he'll give Ukraine.
While still campaigning last month, Netanyahu told USA Today that he'd "look into" supplying weapons to Ukraine if reelected prime minister and expected to play a mediating role between Ukraine and Russia. He also expressed concern in an MSNBC appearance last month that supplying weapons to Ukraine could escalate the war and the armaments could end up in Iranian hands.
Calls from Ukrainian officials for Israel and other countries to provide Ukraine with anti-aircraft systems have become more urgent.
"Iran is a red line for Israel, and after Iran has directly, in fact, become complicit in the crime of aggression against Ukraine, I think anyone in Israel who still has any hesitation about whether or not to help Ukraine, he must dispel these hesitations," Ukrainian Foreign Minister Dmytro Kuleba said last month, according to The Jerusalem Post.
Newsweek has reached out to Netanyahu's Likud party for comment.